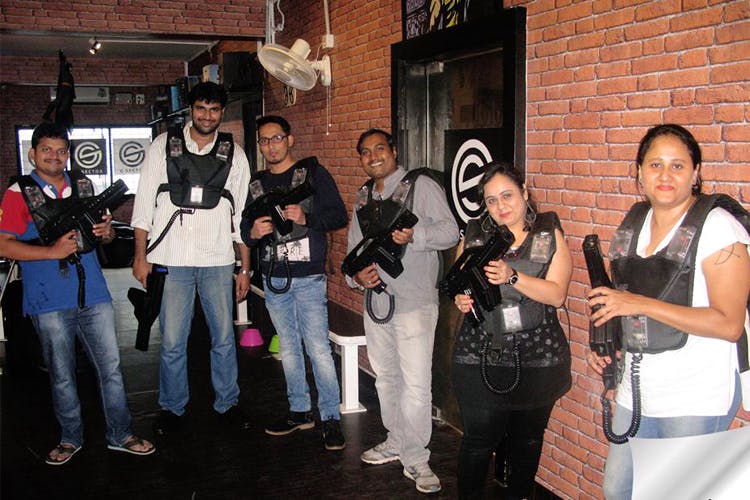 5 Fun Things You Didn't Know You Could Do At KNK Road, Under INR 750
So you thought Khader Nawaz Khan Road (KNK) was all about expensive boutiques, but hey there's a lot more on offer where you don't have to give up your life savings on. Check out these cool things to do at KNK without breaking the bank.
Tag Your Frenemies At G Sector Laser Tag Arena
Turn your friends into enemies and tag the heck out of them at this laser tag arena that's right at the beginning of KNK. For INR 250, you get to play for 15 minutes. That sounds less, but have you played laser tag? It is absolutely intense and you'll be huffing and puffing for breath by the end of it. But it's so worth it! You need at 3 to a maximum of 10 people to play (the more the merrier) so grab the gang and tag away!
Bounce Around At Airborne Trampoline Park
Looking for another fun activity that will leave you out of breath? Chennai's first trampoline park is where you go to bounce off all your troubles! There are 15 interconnected trampolines of different shapes and sizes and there's even a sponge-based foam pit to just chill in. Did we mention you can even play bounce basketball here? Head here for a mad time! And it costs INR 250 for half an hour.
Read more here.
Get A Makeover At BBLUNT Mini
Have a friend's wedding coming up? Or are you just bored with your hairstyle? Come in here and let your tresses be transformed! Known for giving clients funky haircuts, you can get one starting at just INR 600. (This can go up to INR 1,650 depending on your stylist). You can also come in for a quick mini-mani at INR 750 or blowdry that starts at INR 600.
Read more here.
Tuck Into Scrumptious Asian Brekkie At Nasi And Mee
If you want to make a day of it, start off here at Nasi And Mee for some amazing breakfast. We've been slightly obsessed with their sweet, coconutty Kaya toast (not as authentic as the ones you get in Singapore, but still so delicious) with Thai Style Eggs Benedict. Wash it down Kopitiam Teh Tarik — chai made with condensed milk and you're set! And the best part? It costs less than INR 700 for two people. So much win!
Read more here.
Slurp On Creamy Shakes At Keventers
Forget activities, just want to chill? Slurp on deliciously creamy, thick shakes instead at Keventers. With three basic categories namely - Thick Shakes,Fruity Shakes and Classic Shakes, these can easily fill you up. As for the flavours - you can choose from varieties like Mint Oreo Crumble, Melting Rose, Bubblegum, Caramello, Luscious Blueberry, Fresh Raspberry, Choco Peanut Butter (delicious thanks to the salty, chunky peanut butter) and the Chocolate Hazelnut — sweet, sweet refreshment. Prices start from about INR 200.
Read more here.
Comments