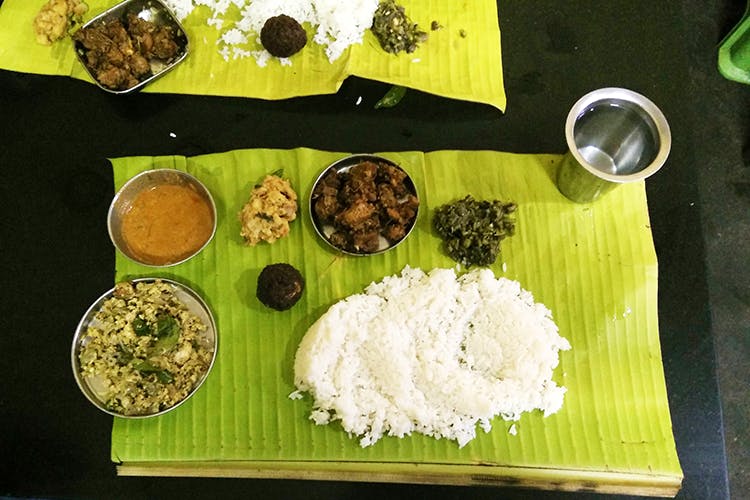 Have You Tried The Mutton Kola Urundai At This Famous Trouser Mama's Kadai?
Shortcut
We dropped by Trouser Kadai, in Mandaveli one afternoon recently and no, it didn't turn out to be a clothes shop. Instead we got served a plantain leaf full of home-style goodies at this famous local eatery.
What Makes It Awesome
If you don't use your GPS and search for Trouser Anna Kadai, it's highly unlikely you'll find this place on your own. Or perhaps you should ask someone on the street where Trouser Kadai is and they'll point you to a literal hole in the wall. There's no sign board here and as you enter you'll notice paint peeling off the worn-out walls. This place has been around for 40 years and is still run by R. Rajendra who you can spot shirtless still wearing his famous trousers hurrying about busily in the traditional kitchen.
The story behind this local kadai is that back in the day R. Rajendra would serve his customers while wearing trousers (a pair of dark-coloured shorts) and the name Trouser Kadai has stuck by since. We spotted the famous albeit soft-spoken Trouser Mama cooking up a storm using firewood and home-made masalas. We head to a dining room inside the small eating place to see what the fuss is about.
If you're someone who is particular about where they're eating from and fussy about the ambience of a place, keep an open mind here. It's absolutely basic. We actually like the fact that it's been untouched all these years; it's got quite a charm to it. There are a handful of chairs and tables and they serve breakfast by 8am, lunch between 1pm and 3.30pm and dinner at 8 pm untill 11ish.
We got to try their lunch, which is pretty much a similar menu every day except on Wednesdays and Sundays, we're told Mutton Biryani for INR 150 is available. But this is what we got on our plantain leaf — a cup of white rice, some keerai poriyal (greens stir fry) and potato poriyal — as homely as it can get!
Non-vegetarians you will love what follows. We got mutton masala (INR 90) and Mutton Kola Urundai (mutton kheema fritters — crunchy and so delicious we had to ask for seconds) that came up to INR 30 per piece. There's also sorai puttu (shark fish puttu) which is very popular in these local eateries.
You can also ask for the paya curry (mutton trotters) for INR 120 along with fish fry, rasam and mor (buttermilk). The food tastes delicious; I do admit I was a bit surprised that it actually tasted this good with great flavours, what felt like fresh meat and home-ground masalas. Our total bill came up to INR 400 that included mutton masala, Kola Urundai, rasam, mor, Sora Puttu, Meen Kolambu (fish curry).
Comments