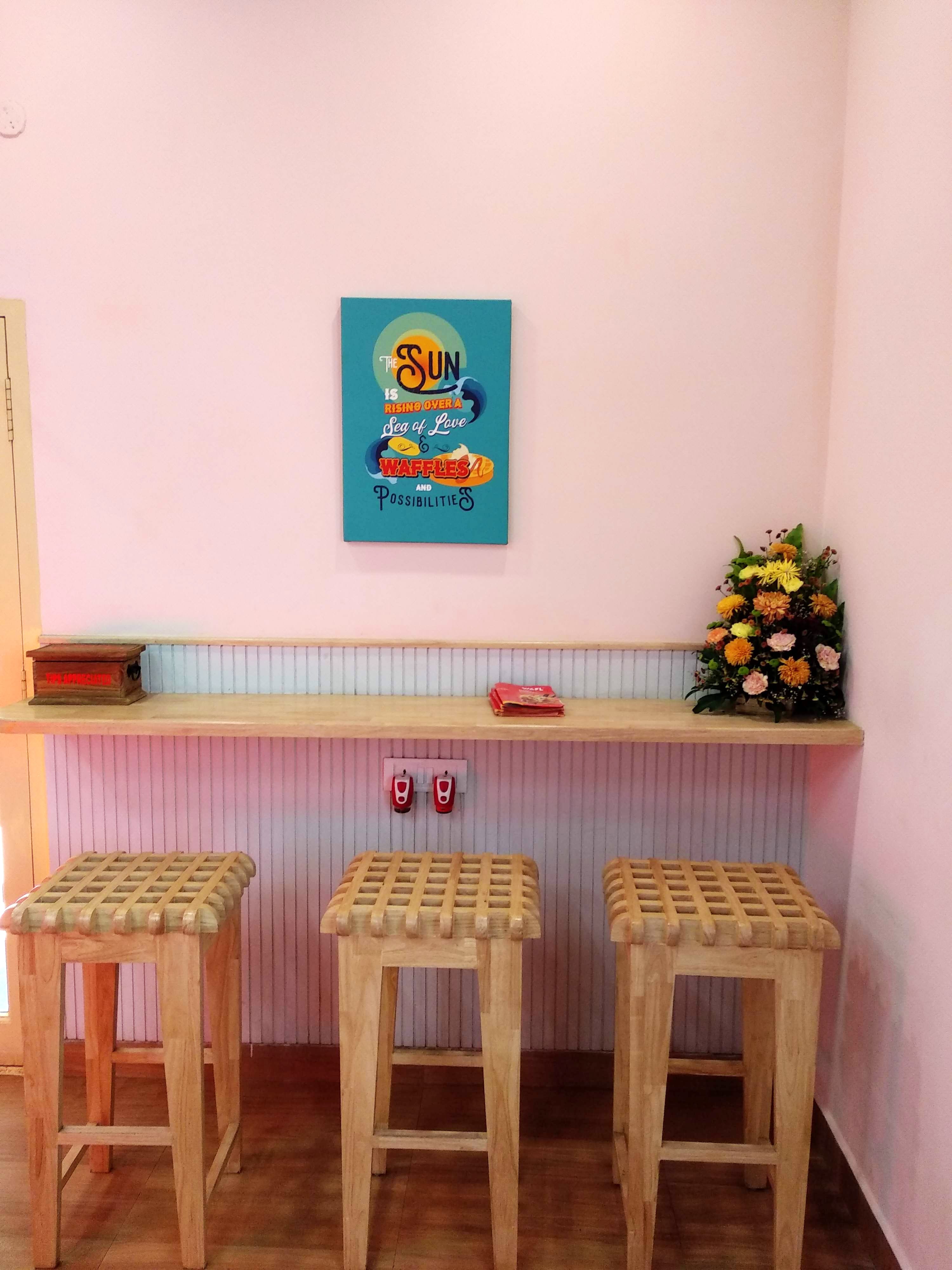 Craving Waffles? Head To This New Place In Adyar For Innovative Waffles!
What Makes It Awesome?
The next time your squad brings up the question - where do we meet up? Tell them, let's head to Wafl, a new cafe in Adyar. Wafl is a Russian chain that has franchises in different parts of India. This cafe, however, is the first one in Chennai. This one is all about innovative waffles.  Vibrant colours, waffle art hanging from the ceiling, waffle-shaped stools, this one is perfect if you are looking for a quick stopover while you grab a munchie. What is so different about their waffles? It is the twist they get to the condiment. We start with a CornDog Chicken Cheese n Onion - basically a variation of the hotdog that is made from the waffle. This one comes with chicken stuffing and mint dip - a snack that you can come back for.  We felt non-experimentative and went with Oreo burst shake. Oreo is bae. What do you get when pizza meets waffle? You get pizza pie. We tried the Spicy Paneer Tikka pie which blended well with the waffle and was spicy at the same time. Add a dash of ketchup and you are good to go. They have other options too like Smoked Chicken & Peppers. Feel like having breakfast in the evening? Go for their all-day-breakfast options like Grilled Cheese Toast, Wafl & Eggs or just go for their Breakfast Wafl - a vegetarian meal.  Waffles, ice cream, whip cream, Oreo, nuts- what's not to like in the hong kong Wafl? The waffle comes in the shape of a cone with all the filling that you can think of. Perfect for those Instagram pics, this one is filling. Their sandwiches (waffles of course) come in four options - Green-Wich, Veggie-Burg, Chicken Club, and Grilled Chicken Burg.  For some pure waffle love, go for the Belgian waffle that comes with usual toppings like choco chips, Nutella Nuts, Seasonal Fruits, and Choco-Peanut Butter.
Comments