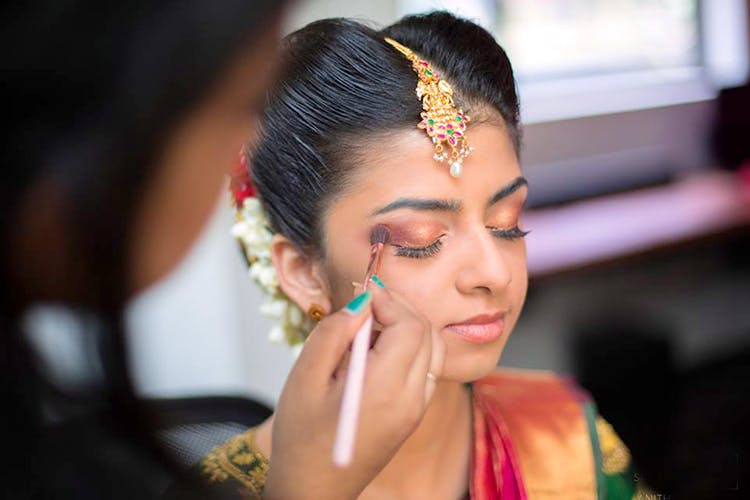 These Wedding Make Up Artists Will Get You Kalyanam Ready For Less Than INR 18,000
What makes a bride beautiful? Her happiness, of course! But a good makeup artist doesn't hurt either. Here are six up-and-coming makeup artists in the city who can take your inner and outer beauty to the next level, without breaking the bank. The Bridal Packages here include makeup, hair and draping.
Anitha Sridhar
Anitha Sridhar is a marketing professional who converted her love for makeup into a job. Anitha has a variety of looks in her repertoire so whether you want subtle makeup or all-out glam, Anitha can make it happen for your wedding!
Price: INR 12,500 for bridal.
Anusha Swamy
Anusha Swamy is a girl of many talents. She's a dancer, a choreographer, a model, a makeup artist and even a YouTuber! Anusha is very creative, and that reflects in the unexpected but beautiful colours and drapes that her brides wear.
Price: INR 17,500 for bridal.
Vishnu Priya M
Vishnu Priya is a makeup artist and makeup trainer from Chennai. Vishnu Priya's an excellent makeup artist, and her eyeliner skills are worth a special mention! Apart from bridal makeup, she also takes makeup workshops where you can learn the basics of makeup with hands-on instruction.
Price: INR 17,000 for bridal.
Roshni Dilip
Roshni Dilip is a makeup artist who also happens to be a Chartered Accountant! This talented girl specialises in dramatic looks so if you want to turn heads in your wedding (and let's face it, you do!), she's your girl.
Price: INR 15,000 for bridal.
Sadhana Senthil
Sadhana is a MAC makeup artist who also does bridal makeup on a freelance basis. She also takes one-on-one makeup workshops for anyone who is interested in learning the basics of makeup. So call her if you want a professional touch to your makeup and your wedding!
Price: INR 17,500 for bridal.
Tiya Alexander
Tiya Alexander is a young makeup artist from Chennai whose passion for makeup is evident from the care she takes to make her clients look the best that they can be for their wedding. She specialises making the skin look flawless!
Price: INR 13,000 for bridal.
Comments