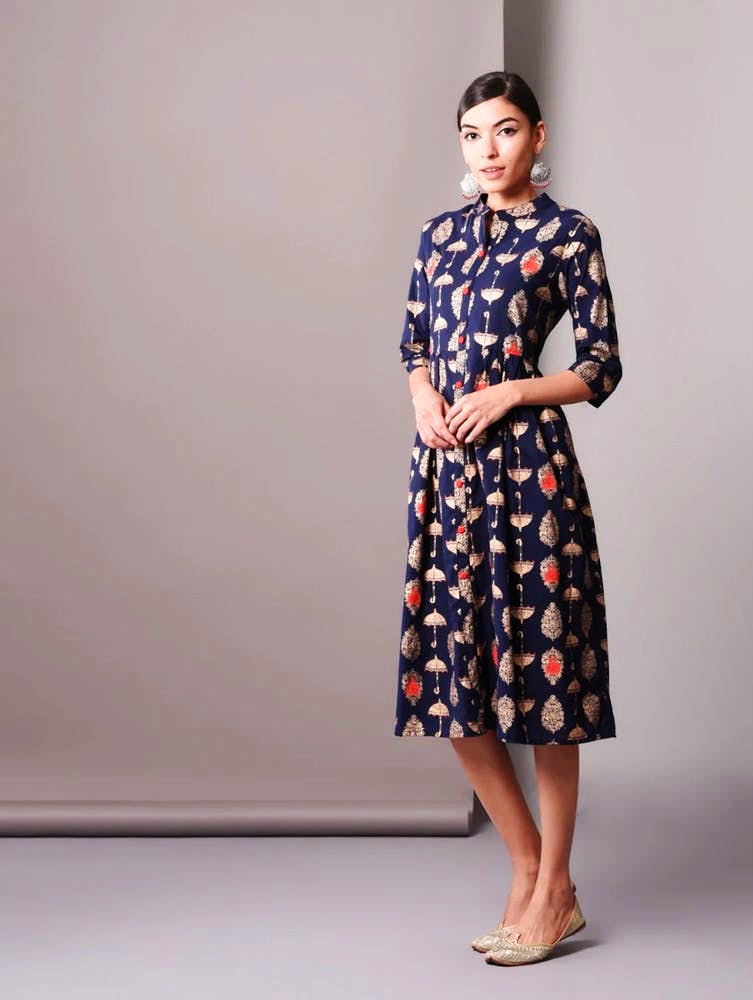 Work Those Prints: Gorgeous Dresses Under INR 1200
From effortless maxis to pretty pastels and unapologetic prints - this heat demands that we step out in style. Yes, yes, we know what you're thinking - payday is really far away. So, we got busy and dug out 10 awesome printed dresses from online shops of all kinds- strictly under INR 1200.
Have a look!

Polka Button Down Dress
Polka dots are all the rage right now and this button down dress is everything. It features a straight (not too tight) fit and looks great without any extra effort. The collar detail adds a formal edge too- awesome for events that are neither too formal nor too casual - a work party, perhaps?
LBB tip: Dress it up with a pair of strappy heels and down with chunky sneakers.
Umbrella Print Dress
For folks who like to keep things interesting, this maxi dress sprinkled with super cute umbrellas is a must-have. The edgy collars and button-down detail make it work appropriate, too. For days when going to work seems like a hassle, this cutesy dress will come to your rescue.
Floral Print Midi Dress
Blue and white nautical colours scream summer holidays, so why not incorporate the same vibe in our outfits this season? This flow dress by Rubellite comes to you straight from Jaipur's kaarigars. The clinched waist detail helps give a defined look and the sleeves are perfect to save you from the sweltering heat.
Floral Asymmetric Dress
There's no better season than summer to sport floral everything and this stunning number by Untung does a great job showcasing flower power. The high-low cut gives a super relaxed fit- making it summer friendly too. It's best worn with casual sneakers or strappy flats.
Multicolor Keyhole Neck Dress
If you're all about making a statement, being bold & care-free and don't know style without comfort, you can NOT miss this stunning number by 109F! It features a vibrant print with a stunning keyhole collar, so different from what we generally wear. The fabric's unbelievable comfy and for this price? It's a STEAL, ladies!
Block Print Short Dress
Hello Yellow 🌞 Featuring a gorgeous (and well done) block print on a STUNNING mustard base - this dress will instantly make you happy! The frill detail on the hem is a tactful addition - making it a great alternative to your run-of-the-mill summer dresses. Pair it with sneakers or matching Kohlapuris and be ready to turn heads!
Floral Indigo Midi Dress
If you're all about flattering silhouettes, and breathable fabrics - bookmark Vyanna asap! This brand uses the COMFIEST cotton and still manages to deliver uber-chic dresses every.single.time. Don't miss this brand's Indigo and floral prints - they come at unbelievable price points.
Chequered Midi Dress
Folks who like to keep it bright and colourful, this one's for you. Some days we gotta add refreshing styles to our workwear and what says happy better than a bunch of polka dots? This midi dress by Mirage features subtle checks, a half button-down detail and the HR-approved Chinese collar. Ofcourse yes, It's selling out at lightning speeds, get yours before it's gone!
Floral White Midi Dress
We have a white dress problem. Give us white in any form we seem to find a reason to bring it into our lives. That's why, when we saw this floral midi dress, we couldn't resist bringing it to you. The fit is billowy, making it your next summer best friend. Get awesome kohlapuris to match and you're all set to slay!
Hand Block Indigo Dress
We know the market's full of synthetics that more often than not make the heat even more unbearable. In times like that, reach out to Ruisa (cotton only brand). While we love everything they do, for now, let's focus on this amazing Indigo number by them. It features a fringe detail at the hem, saving us from fashion extinction and it's got a relaxed fit making it super easy to pull off. Carry your go-to sling with it and step out to beat the heat.
Ask Divita a question