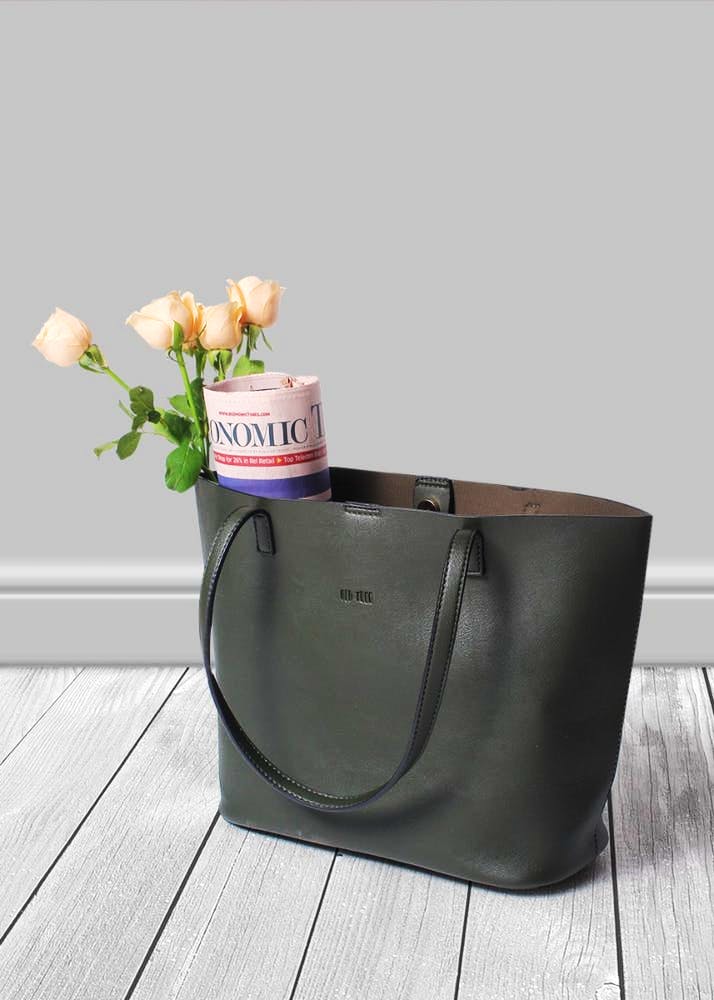 12 Totes That'll Carry Everything
Lugging around multiple bags throughout the day can get extremely tedious and bothersome. Let's face it - women on the move (like us) need spacious and sturdy bags that can fit in everything from laptops to everyday essentials. Here are 12 totes that are trendy-yet-functional and will be the end to all your woes.
Old Tree Tote
The tan handbag obsession is real! I found this spacious tote on LBB's best-selling list and I'm not complaining. It's the perfect desk to dinner bag - from my meeting necessities, makeup essentials to small snacks, it comfortably holds everything. The best part? It comes in SIX awesome colours too - so if you would rather set trends rather than follow them, you're gonna love this one.
Olive Tote
Olive this everyday tote 💚 It steps up a routine work outfit in an instant and looks bomb for a formal brunch too. If you're looking to crack that business deal or rock a killer outfit it in your girl gang, go with this one, without any double guessing. P.S. - If you're obsessed with all black everything, they have this in a stunning jet black too!
Open Stitched Tote
In authentic looking faux leather, this open tote is happiness in a bag! It's very well compartmentalised, keeping all your stash sorted - because who really clears reorganises bags on weekends? And the straps are engineered in a way that doesn't feel too heavy on the shoulders. For a detailed bag tour, head on to LBB.IN/SHOP and look up Old Tree. Because trust me, for this price? Everyone's gonna want it.
Two-Toned Texture Tote
Calling all workaholics: this everyday tan tote screams "Boss Lady" like nothing else. If you're into minimalism, and swear by classy as your style mantra, you can't miss this one. It's subtle and simple yet has a super chic vibe to it. Best worn with formal wear and classy shirt dresses IMHO.
Statement Tote
(Always) got a beach getaway on your mind? Get your hands on this statement tote stat. I personally love Maisha by Esha's bags - their Aztec prints and eye-catching prints are every minimalists' dream! And believe you me, you won't get these prices anywhere else.
Dogs > Humans Statement Tote
Dogs > Humans? Always! Get your hands on this minimal statement tote for an unbelievable price point. It's made with really durable material and is perfect for all your "no fucks given" outfits.
Black And White Stripes Jacquard
This Jacquard stripes tote is exactly the upgrade your monochrome obsession was craving. It's literally as roomy as it gets and as trendy as I've seen in a while. With a vibrant orange lining and spot-on detailing, this one can also double as a long-weekend bag or short day trip across town.
Get Shit Done Statement Tote
Living that hustler life? This "Get Shit Done" by The Art People actually works like a constant reminder to get things in order and works really for me on my busy days. It also speaks your "got work on my mind" mood before you have to, so I suggest, hit add to cart before it gets added to your long to-do list.
Macaron Statement Tote
Another masterpiece by The Art People, this statement tote is literally the best thing in my accessory wardrobe. If you know me, you're well aware of my macaron obsession and this one comes in my fav pink too! The best part about cloth bags? You can load them with an insane amount of stuff without caring about them losing their shape or breaking.
Handpainted Ice Cream Tote
Paint & Tonic has been crushing it with their precisely done handpainted everything - quirky prints, bomb colour combos and so much more. My personal favourite? This super cute and spacious Ice-cream tote. P.S. - Thanks to LBB, my Ice Cream Day outfit was on-point and got me so many compliments.
Comments