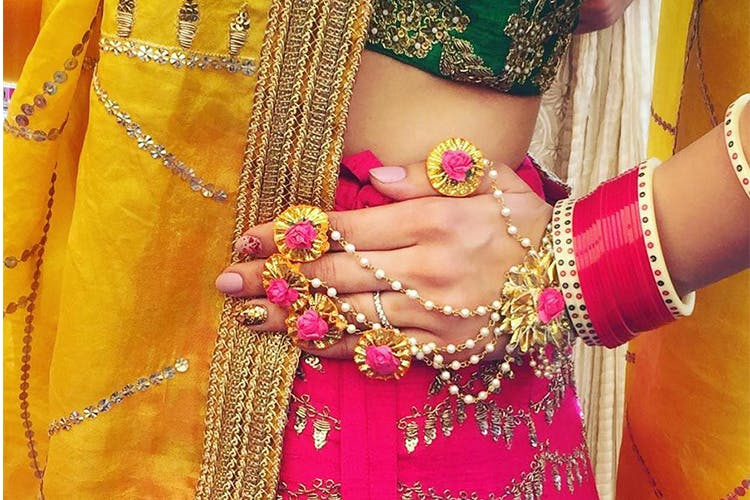 5 Instagram Stores To Check Out For Stunning Gota Jewellery
Gota jewellery is high on style and low on pocket and maintenance. Moreover, these can easily be worn again. So, we made a list of our favourite Instagram pages from where you can buy gota jewellery because going out to shop just requires so much more effort.
Fooljhadi
Think of hand-embroidered gota chokers, heavy necklaces and literally anything unique – Fooljhadi has got it all! Their classic pieces outshine them from other gota patti providers in the market. We are absolutely smitten by their gota kalires and bangles that are beautifully laced with jhoomars. One of our favourites is their passa style pink earrings.
Shop here. 
Rasha Gota Jewellery
With a surplus of perfect products, Rasha Gota Jewellery vouches to give you the gorgeous appeal with affordable prices. With amazing hand picked designs, they have got every type of design a bride is looking for. Their best designs are their colourful chokers with intricate detailing.
Shop here.
Lime by Manika
If you're hunting for gota jewellery that's chic and durable at the same time, then Lime by Manika is the best stop to be in! While usually, you will get gota patti with flowers or jhoomars, Manika adds the charm in it by adding mirrors and short pearls in it. Sounds unique? Go grab it brides to be!
Shop here.
Prune India
Inspired by heritage style of jewellery, Prune makes beautiful necklaces and other baubles. We are crushing on their gota haath phools, they are an apt cocktail of mesmerising mirror work and vibrant colours. They also have a wide collection of mehndi giveaways.
Shop here.
Aara
AARA is a place where you will get the finest gota jewellery, they design custom jewellery with Gota and hand-made accents. Jaipur based designer makes different yet beautiful pieces like gota rings, lapel pins for grooms, brides, and mothers too.
Shop here.
Comments