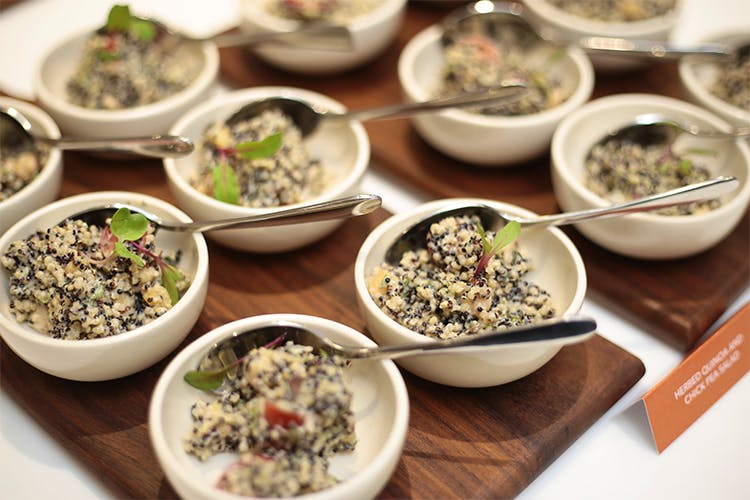 5 Mouth-Watering Reasons Why You Need To Visit Choko la's New Cafe!
We all love Chokola for their chocolates (I'm looking at you Signature Hot Chocolate!) and desserts. And now the folks at Chokola have given us more reasons to visit their new outlet. Their latest Greater Kailash outlet in Delhi offers a delectable experience in a cosy set up and is perfect for all kinds of gatherings. This new outlet is the first of its lot to serve a healthy menu which includes vegan dishes and drinks , gluten free desserts , salads, sour breads and a lot more. Here are 5 new options from their super food menu that are irresistible (and you can't leave without trying here).

1. Choko La Classic Eggs Benedict
Are you a fan of something British besides the accent? Try the Sourdough bread topped with sauteed spinach served with poached eggs and hollandaise sauce on the side. Believe me, it is a treat for your taste buds. Plan your next English breakfast date here soon!
2. Chipotle Black Bean And Guacamole Soft Tacos
One of their bestsellers (and we totally get why!), this spicy mix of black beans with chipotle guacamole is a luxury to gorge on. Topped with sour cream and salsa on soft tacos and served with an option of fried eggs or grilled cottage cheese, this is a dish you cannot afford to miss.
3. Herbed Quinoa And Chickpea Salad
It's all about the flavour people! Their quinoa and chickpeas salad is a classic combination made unique with mint tossed in lemon tahini dressing which makes it a palatable affair. Relish this dish at your next gathering with friends.
4. Eggs And English Mustard Sandwich
This is another classic British menu option worth drooling over. This sandwich of boiled eggs, butter and english mustard made with sourdough rye bread is served with a house salad. Make plans with your best friend and visit their new store to pair this sandwich with their signature hot chocolate for a delectable affair.
5. Belgium Chocolate Truffle Pastry
Ohh that feeling when this pastry melts in your mouth! It has the perfect ganache that's sure to give you a foodgasm. Made in their own chocolate factory, ingredients blend beautifully, making it one of the best in the city. So what are you waiting for?
So, We Are Saying...
Text your friends and go here for some delicious food to go with your conversations.
Comments