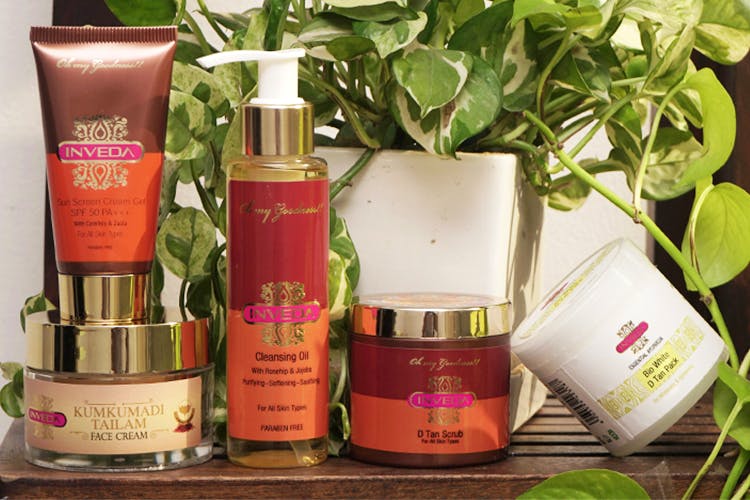 5 Products To Get Your Skin Ready for Summer the Organic Way!
As soon as the sun comes out and temperatures soar, our skin also starts breaking out. Pimples, oily skin, patches, and so much more! Which is why we recommend treat your skin with love and only natural and pure products. The same way how we take efforts to leading a healthy lifestyle, why not show the same love to our skin. Confused on which products to buy? This is where Inveda comes in! All products by Inveda are 100% organic and is an amalgamation of 'infusion' and 'ayurveda'. Inveda believes that beauty is more than just skin-deep, it is the regaining of the natural balance of the skin. Not to forget, all Inveda products suit all skin types, contain no paraben, no sulphate, no silicone, and are PETA certified. To clear your confusion, we bring to you five products which are a must haves for your skin! Best part? All 5 products can be used to give your face the complete protection and cleansing.

Inveda Cleansing Oil
The first step to removing makeup after a heavy tiring day is to cleanse your face properly. Inveda's cleansing oil is so soothing on your skin. It removes even the most stubborn makeup along with hidden impurities. Unlike other cleansing oils, it is not harsh on your skin or leaves it greasy/overdry. Loaded with pure ingredients such as Rosehip and Jojoba oil, both of which are rich in important vitamins and minerals, this Inveda Cleansing Oil is a must have.

Inveda D Tan Scrub
No matter how much sunscreen you apply on your skin, the sun always wins and gives you a light tan. We've heard tales of how combinations of chickpea flour (besan), curd and honey help in removing tan. Inveda D Tan Scrub is power packed with essential amino acids, vitamin E, and anti-oxidants that removes dead skin cells. The result you ask? Bright Skin Complexion and skin that does not look dry or patchy. For best results, gently massage it on your skin for one minute and rinse it off with warm water. Follow it up with a light cream or moisturizer.

Inveda Bio White D Tan Pack
The Inveda D Tan Scrub mentioned needs to be clubbed with the Inveda D Tan Pack to show optimum results. Inveda presents to you D Tan Pack which acts as your armor against tanning. With extracts of Eucalyptus and Clove, this cream removes the tan and brightens your skin, making it look as fresh as a daisy. Eucalyptus and Clove are best ingredients to fight skin irritation or redness. Take care of your skin since the summer season is just beginning!

Inveda Kumkumadi Tailam Face Cream
How many of us remember the famous L'Oreal Ad where Aishwarya Rai says '5 problems? 1 solutions!' We bring to you a new jingle! 9 skin problems? Only 1 solution: Inveda! The list of skin problems keep increasing during the summer season and everyday we are faced with a new skin issue. Pimple, acne, breakout, you name it! Inveda Kumkumadi Tailam Face Cream is a magical beauty which is packed with 25 powerful ingredients that heals the skin from the core leaving it toxin free.

Inveda Sunscreen Cream Gel SPF 50
Sunscreen is a beauty mantra that everyone swears by irrespective of the weather. Winter or Summer, you need to apply sunscreen and step out. Inveda as a brand believes in creating products with the most natural ingredients and and the Inveda Sunscreen Cream Gel SPF 50 is no exception. Made with Comfrey and Zesta, this sunscreen protects the skin actively from tanning and pigmentation amongst other issues. The cream is gel-based and non-greasy in texture and suits any and every skin type, not to mention it stays for a long time.

#LBBProTip
We believe that like every part of your body, your skin needs to be treated with utmost love and care. The goodness of all natural ingredients in Inveda ensures that your skin will not be put in danger. All the products are 100% natural and blends modern research with ancient research to result in a skin that is always summer ready. Adding to this, all Inveda products suit all skin types, contain no paraben, no sulphate, no silicone, and are PETA certified We love Inveda as they apply to both men and women and work miracles on anyone and everyone, irrespective of gender! Buy all 5 together and get a fabulous discount as well! Hurry Up Buy Now!

Comments