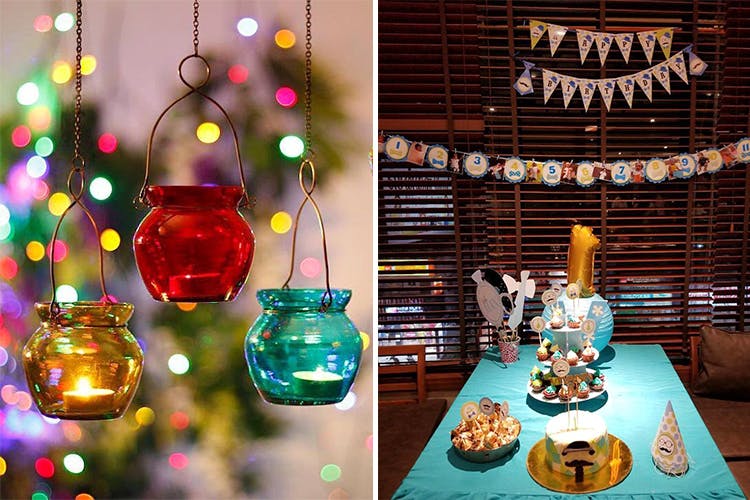 Throwing A Party? These 7 Places Have The Coolest Props & Supplies!
A party is as much fun as you make it out to be. Unless a few plastic sunglasses are broken and photo booths covered in wine, you've not had an epic night. There's also another thing: Prepping for a party can sometimes be more fun than the evening itself. And how do we know all this? Well, we've hosted some wild parties in our hey day, and our trusted party supplies stores have forever watched our back.
So, we're letting you in on the coolest spots to gather everything from LED balloons and crazy bachelor party props to even weird, gangster-themed decorations, here are our favourites.
Party In A Box
It came from being a physical store to an online platform in 2014 and they've got a whole lot of stuff if you're looking for funky balloons or cool pinata. What really impressed us here are the themes, including some really offbeat ones like Under The Sea, Mad Hatter Tea Party, Cupcake and lots more. Don't worry, they've got stuff for the usual birthdays and festivals too.
P.S. Their colourful plates and neon martini glasses are amaze.
Wanna Party
Planning on throwing a theme party? Wanna Party stores have got you covered for everything from a masquerade and disco party to a Halloween or Hawaiian themed bash. They've got some really cool wearables like the Afro wig and the beer helmet we can already see becoming a huge hit among all your guests. They also do personalised wedding favours and as a wedding guest—wouldn't you be happy receiving favours such as a customised miniature whiskey bottle or fortune cookies?
PrettyUrParty
This website has got party supplies for more than 200 themes that includes winter wonderland themed parties, vintage glam, art and craft party and even supplies specific to retirement parties! Best part—they can even do 2-day express delivery or next day delivery, so if you're throwing a last minute party, you know where to look for all the crazy party supplies that you won't find at most stores.
Funcart
Doing justice to its name, Funcart's offering a whole section dedicated only to drinking games. This website has got shot glass roulette, a not-so-innocent version of snakes & ladders, and a spin-the-bottle drinking game, among many others that are making classic games seem cooler than ever. Don't worry—if none of this interests you, because they've also got the usual party supplies all categorised according to occasions and themes.
Itsy Bitsy
Itsy Bitsy is a paradise for stationery addicts, but we've also found decent party supplies at this store. While they don't have fancy props with LED lights, they do stock up on pretty gift boxes for party favours, festive and birthday banners, metallic balloons, pinatas, eye masks and party hats, all of which will certainly jazz up your party. Plus, the goods at Itsy Bitsy are all very affordable and, while you're there, you might want to re-stock your stationery supplies too.
PartyPropz
It's based out of Kolkata, but give them a 3-4 day buffer time and they can deliver to Delhi too. They've got an extensive collection for both kids and adults. So, Mickey and Bheem to wacky stuff for your bestie's bachelorette, or a random hippie party—they've got everything if you're not going totally OTT. If you've got a small-ish plan, the basic balloon-sash-candles can easily be taken care of by these folks.
Partylicious
A Mumbai-based company established in 2009, Partyhunterz has an extensive collection of colourful tableware in stripes, zig-zag patterns and funky neon ones. We've visited the store ample times for emergency supplies and have never been disappointed. Happy to report that their online store is equally well-stocked with decorations for every occasion. What we love the most is their accessories section with wigs, sunglasses, costumes and more fun stuff.

Comments