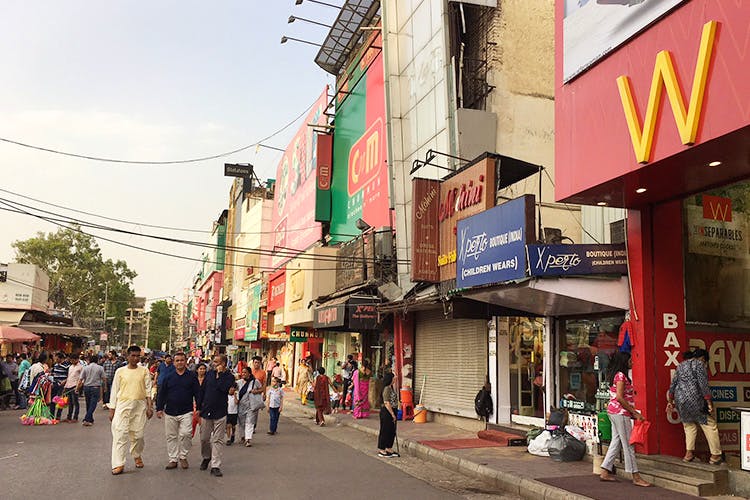 These 7 Shops In Lajpat Nagar Store A World Of Affordable Fabrics, Juttis & Borders
Here's the good news—Central Market, Lajpat Nagar is repetitive in terms of what's being retailed; plus, there's barely a price, quality or product difference between one nook and the next. So, if you know exactly which stores to hit, you can go there with a definite purpose and that's where we can help.
PS: There ain't no space here for the timid; put on your best aggressive, bargaining face if you want to do more than just have a look-see.
KC Creations
If HP Singh in Nehru Place is too pricey for you, and the lanes of Chandni Chowk too far, KC is an excellent middle ground. They're well-priced for fabrics, and have a giant range spread over three floors. Cottons, blends, prints (3D, geometric patterns, tie & dye, Aztec, tribal), brocades, silks, chanderis, and phulkaris, KC can cater to any and every fabric need.
The Prakash Collection
Hands down our favourite store! They specialise in borders and trimmings, and house any and every kind you can think of. Think borders like phulkari, kundan, zari, Rajasthani, Parsi, cutwork, Swarovski-encrusted, and laser cut, too. Venture into their basement and you'll see that it's a treasure chest for studs, stones, beads, pearls, collars, resources for DIY necklaces, and every type of button and zip.
Istri Vastra
Tucked away in the corner of a by-lane, Istri Vastra has little to no branding, two openings, and is easy to miss. It's a fairly popular store, though, so asking around always proves fruitful. We especially recommend their collection of white fabrics and line of neon fabrics. From chikan work, white-on-white detailing and delicate laces, to funky neon prints and georgettes, they've got everything.
Ghoonghat Dupatta
Right near the Police Station, Ghoongat (store no. 1), makes buying Indian clothes a lot easier, allowing for versatility with its exhaustive range of dupattas that you can mix and match. Their chunnis are available in a range of colours and styles, including the ever popular crinkled variety with gold piping, the simple chiffon in solid colours, and block-printed chunnis.
Find out more on their Facebook page.
Salwar Lane
Opposite 3C's Cineplex, this lane has on offer a massive range of pre-stitched, semi-stitched, and unstitched salwar suits. They stock salwar suits primarily in cottons, crepes, georgettes and other basic, lightweight fabrics. Although mass-produced and not the greatest quality, if you sift carefully, you can get lucky with some great salwar pieces for everyday wear.
This lane also houses majority of the tailors and dyers for some quick alteration and dyeing jobs.
Jutti Stalls
Since the branding was a tad questionable, we're calling them the triad of shoe stores. Bang opposite KFC, stalls number 12, 13, and 14 are Lajpat Nagar's hotspot for juttis, kohlapuris and other Indian-inspired flats for men, women, and children. The stalls offer more or less the same in terms of design (threadwork, cutouts, solid colours, and embellishments), styles, and price ranges.
There does exist a certain competitive streak between the three stores, so if you're in the mood for some theatrics, you can feign disinterest in one, to get yourself a better rate at the next one.
Ramji Sons
This store in Central Market is an institution of sorts. It's a fabric haven, particularly for those looking for wedding wear. Fabrics with gota patti work, silk with digital prints, velvet embroidery, semi Tussar silk with embroidery and Gujarati work fabrics are some of the many types you'll find here. Ramji Sons also has a huge variety of dupattas for those who believe in the mix-and-match way of life.
Comments