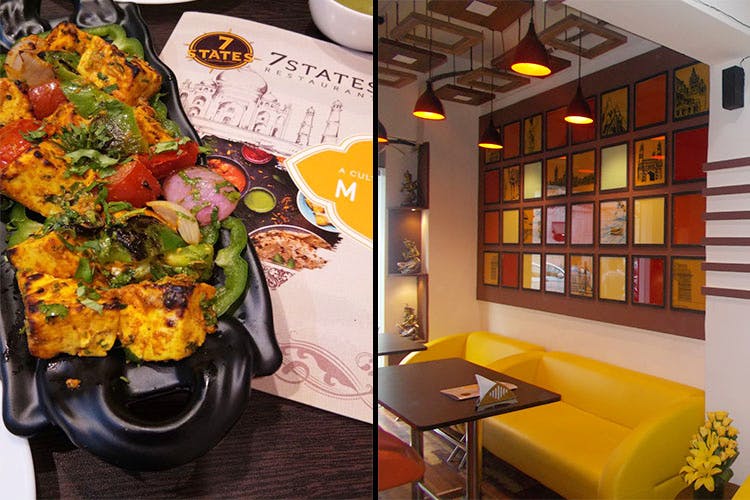 Kashmir To Kerala: This CP Restaurant Offers Food From 7 Different States Of India
Shortcut
Talk of variety and you shall find it in Delhi's food scene. A CP restaurant, 7 States, does cuisines from, well, 7 different states and more.
What Makes It Awesome
We've scoured this town, trying different cuisines and devouring meal after meal. There's nothing quite like having an array of choices when it comes to food, and Delhi has it all.
One of those places we scoured is a restaurant called 7 States in Connaught Place and choices… well, that's what they do best. Here, you'll find cuisines from Punjab, Kashmir, Kerala, Hyderabad, Gujarat, UP, Rajasthan and then some more – it's a cultural retreat in the form of food.
You'll find everything like Nadru Yakhni, Butter Chicken, Fish Curry, Mutton Biryani, Gujarati Dal, Keema Kaleji, Laal Maas and all things Indian. You'll also find the usual suspects like momos (tandoori, steamed, and fried), noodles, rolls and more.
Their whole idea is to offer diversity when it comes to food – because why stick to one when you can do seven well? So, it might be a head-scratching few minutes while you flip through the menu and decide on what you want, but it's well worth it. You could go for a Punjabi starter, follow it up with Kashmiri main course, pair it with some Lassi – basically take your palate for a spin.
What Could Be Better
We wish their desserts section also included as many varieties and options as everything else on the menu does.
More Information
7 States
Wi-Fi Available

Nearest Metro Station: RAJIV CHOWK
Comments