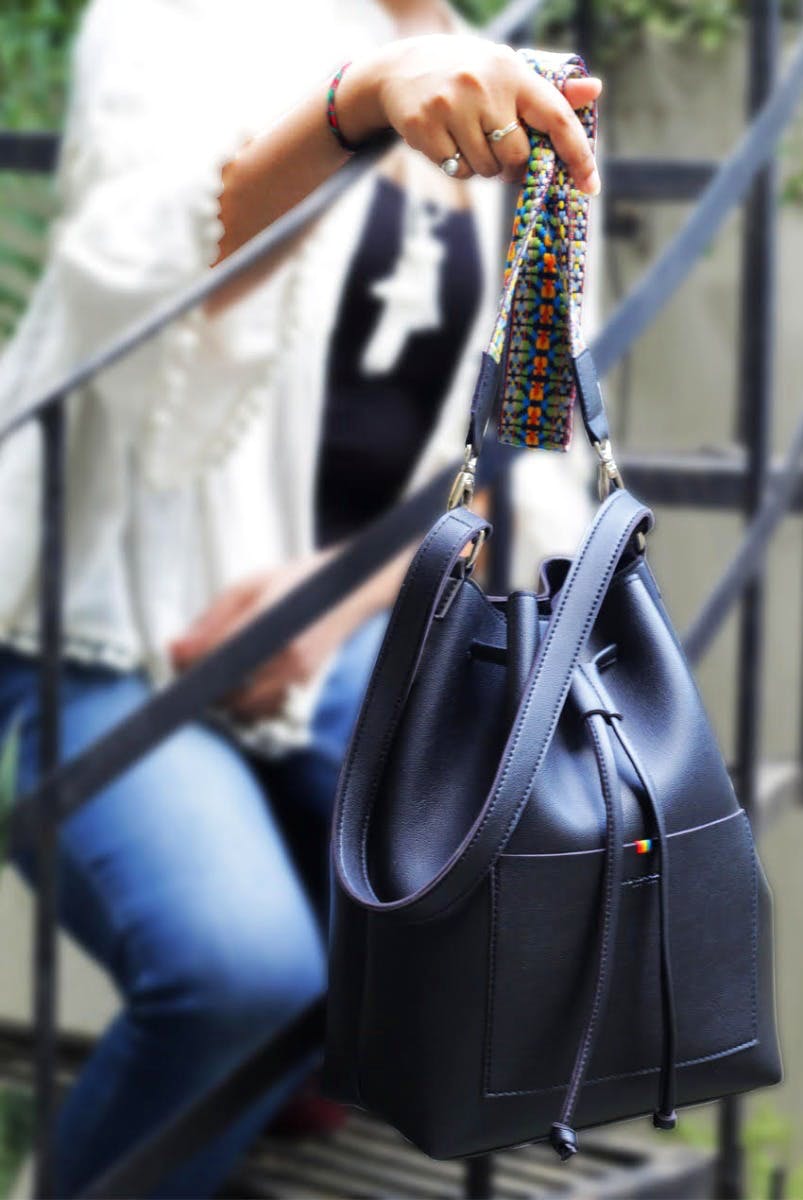 These Under ₹1000 Bags Look Anything But
Sometimes you're trying to look cute, but don't want to spend everything in your wallet on one look We feel that. With every outfit comes a matching bag, and we're here to help you look your best while spending the least. Get ready to save your money, honey.
Metallic Stud Detail Shoulder Bag
This shoulder bag has just the right amount of studs, without erring on tacky. We love how spacious this shoulder bag is, and the array of colours it comes in.
Vegan Leather Metallic Closure Chain Bag
Whether you're heading out with your friends or for date night, this bag's sure to step up your look (and make 'em spot you from a mile away). And the best part? It looks expensive, but actually isn't...
Multicolor Wide Strap Drawstring Bucket Bag
Made with faux leather and an intricately embroidered strap, this bucket bag offers much more than meets the eye. It offers more than enough room to throw all your stuff inside while also offering ample support for daily use! Only 4 left at 60% off, you guys! Hurry!

Two-tone Ikat Tote
How I-kat-ching is this bag? Okay that was lame, but this bag certainly isn't! Made with cotton and vegan leather, this number offers space and style while staying conscious and we love that! Add a splash of colour to your outfits at just ₹899.

Tan Trim Striped Backpack
An incredibly functional bag with bold nautical stripes that adds style to your outfit even on days you just really don't want to try (we all have those!). The sturdy canvas exterior and leather trim all over the bag gives a classic pop of colour and allows you to store your laptop, books, you name it! Get your hands on this classic for ₹849.

Two Tone Adjustable Strap Long Tote
With an innovative strap concept and dual tones of beige and black, this bag gives you minimalist vibes while doing the most. You can pick from two colourways alternating black and tan and carry off your functional chic look while you're out and about.

Vegan Leather Black Tassel Drawstring Bag
This bag is guaranteed to pull your heartstrings with its drawstrings! Complete with gorgeous black tassels, this vegan bucket style bag allows functionality with its single pocket, making it easy to access things on the go. It also adds some character to your outfit without being too overbearing. Win-win.

Frida Kahlo Printed Clutch
Okay, so Frida Kahlo didn't paint this herself, but why not emulate the woman herself and stand out among the crowd with an eye catching iconic clutch? Get yours for ₹799 but hurry, only 9 left!

Handcrafted Beaded Cactus Round Cross-Body
Show some much needed love to our prickly little friends by repping some cactus gear. We've all got our eyes on this stand-out accessory that'll add some character to your outfits at only ₹349!

Beige Persian Printed Clutch
Flex your *cultured* muscles with this printed clutch. Pair it with an all-white outfit for some well appreciated contrast or a cool denim jacket if you're feeling experimental. Some information about Persian printing definitely comes in clutch, pun intended.

Faux Leather Trim Jute Cross-Body
Bright, contrasting elements and fabrics are all the rage. Like the red trim and jute base on this bag - two birds, one bag. The gold hardware adds a tasteful and luxe element to amp up the vogue. All yours for ₹699 only!

Vegan Leather Glossy Cross-Body with Wristlet Strap
Oh, imagine just walking around in a cute flowy dress and carrying this delicious-looking pastel bubblegum pink bag around your wrist. Or how about a strong black power suit with this as a contrasting accessory. Get this gorgeous vegan leather versatile bag and let your imagination run wild.

Leaf Print Backpack
We've seen enough floral printed backpacks but never spotted anything like this. The intense contrast of the red trim, white and subtle grey lets people know you mean business. Cop this piece and stand out for your impeccable taste and just wait for the compliments to come pouring in. The best part, this investment is just ₹600.
Comments