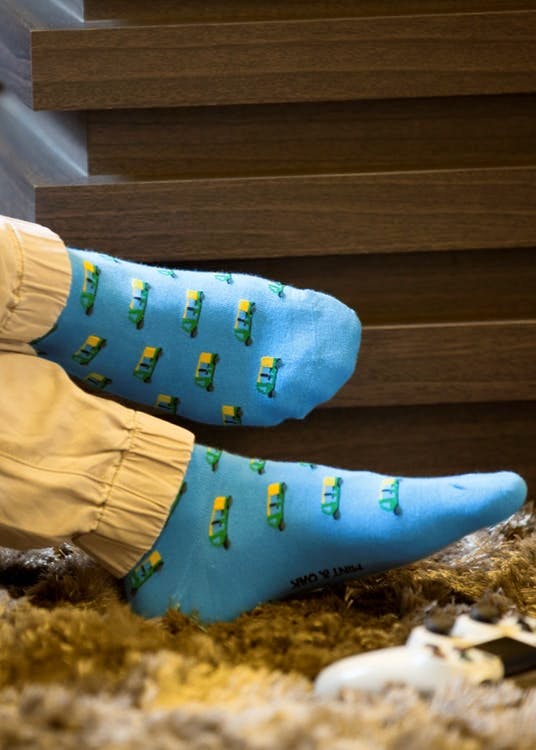 Add Some FUNK To Your Feet With These Socks Starting @ ₹149
It's time to yank the boring out of your sock drawer and replace it with some really fun, nostalgic and emotive socks, for all moods and temperaments. Whether you're adding to your own sock selection or adding to someones gift box, there's a sock for almost anything and its about time you update your catalog and get your sock game right!

Comfy Netflix and Chill Socks
Slip into your comfy PJs, stay indoors with the AC on and binge-watching your favourite series on Netflix- and you've GOT to own these comfy socks to double *the feels*. Our saviour from all moments of boredom needs an homage and these socks are totally here to popularize the phrase even more so Netflix and chill with these socks on, why don't you?!

Alien Emoji Socks
Be ready for the Area 51 raid and hop onto the pop culture wagon with these alien emoji socks. If you're feeling extra-terrestrial but also want to stay cozy, these are the socks for you. Cool and ~weird~, just how we like it!
Buttercup Green Ankle Socks
Admittedly, Buttercup was (is) my favourite of the Powerpuff Girls and I could not be happier to get these and rep' my girl who taught us all its TOTALLY cool to be a tomboy, and that life's just better that way. Comfy and brightly coloured, these are so apt for her look. Stay cozy!
Desi Auto Ankle Socks
Publicize your undying appreciation for our trusty autos and the innumerable times they've come to our rescue with these Desi Auto ankle socks! Show them some love on the gram and let your happy feet get the love on the 'gram. A great give and take, while you stay snazzy.

Hearts and Donuts Socks
Donuts have our heart and these socks have both! How fitting. These SUPER CUTE pink socks are way too adorable to skip out on. A tried and tested favourite, these socks are perfect as a gift or to add to your own collection! (we recommend both!)
Comments