The information in this post might be outdated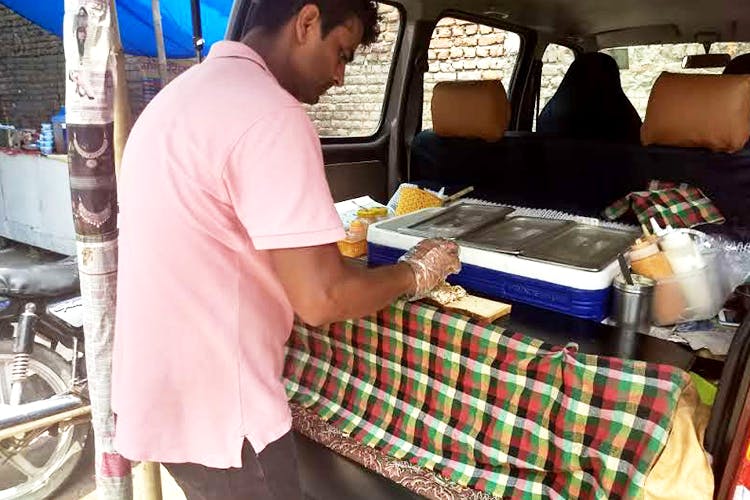 Chocolate, Cheese & Hung Curd: This Guy In Noida Sells Amazing Sandwiches From A Car
Shortcut
In the lane that leads up to the TOI building in Film City, there's a food car which has literally popped open its boot for sandwich lovers. The perfectly sweet taste of the dark chocolate still lingers in our mouth and we're reveling in how little it costs. So, if you're in the area, take a sandwich break with Ajay and he might even tell you all he's endured to keep things going here.
The Real Bread Winner
Ajay hasn't always been the good-natured sandwich guy. Believe it or not, he used to be in the marketing and finance sector. As luck would have it, he had to quit his job in Mumbai and move to the capital when his wife landed a job with AIIMS. That's his life story in short. 
It's been anything but a smooth sail for this couple but come illness, come hardship, Ajay knew his heart wasn't in a nine to five corporate job. What started with him selling soups and sandwiches to morning joggers outside Lodhi paved the way for something bigger. He got a contract with the nearby Sai Temple for breakfast supplies and then, he found himself at the crossroads again when his daughter was born. The cushy job seemed all too tempting when pitted against waking up at 3am to prep for meals but he did what any self-respecting, dedicated foodie would do… He stuck by his small food business. 
Two years ago, he parked his Ford Figo at Film City in Noida. Hungry reporters and passionate media students soon got whiff of this food car that was clean, affordable and made homely sandwiches with a lot of heart. And the business picked up and not much has changed since – his veggie sandwiches with cheesy, gooey insides are a hit.
Spread The Joy
Pick from cheese and chocolate, spinach and corn, vegetable, hung curd or tomato. He also makes a pretty decent burger if you're someone who gets very easily bored.
Most importantly, the food's all humbly priced; INR 40 for a hung curd sandwich and INR 50 for the chocolate one.
Soon enough, non-vegetarian options will make it to the menu and winters will see soups make a comeback… We'll probably ask our journalist friends to keep us posted on the developments.
Comments