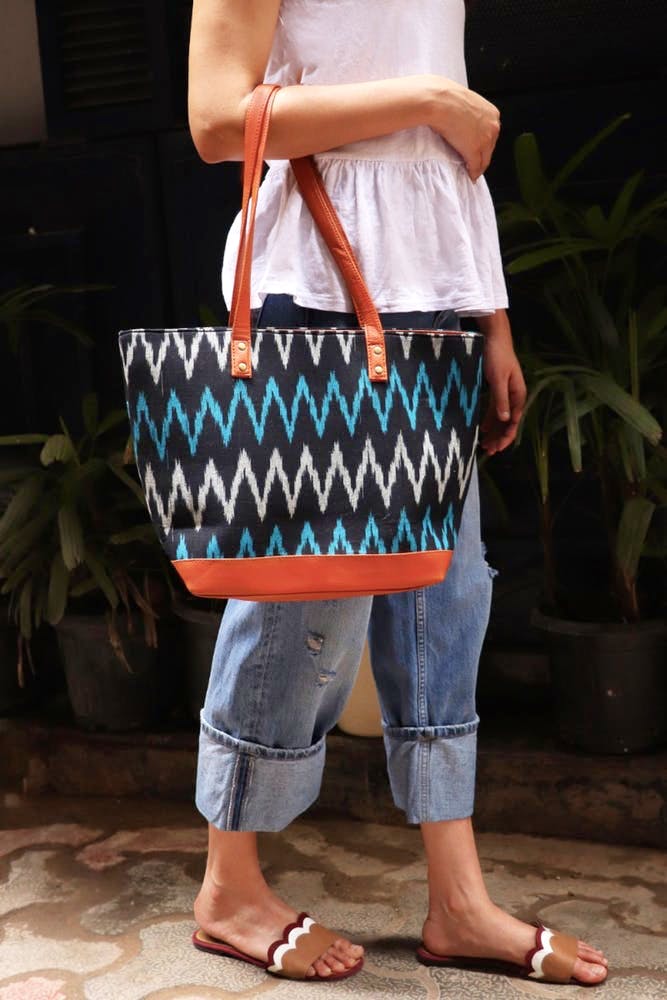 Indie Chic: Add Some Ikat To Your Wardrobe With These Pieces
Ladies! If you're looking to get on board with the whole ikat trend, we've curated a whole lot of awesome for you. From shoes to bags to clothes, everyone's going all ikat this summer. And here's where you can find it!
Tassel Detail Maxi Dress
Handcrafted by artisans, Bohemian Dream's ikat maxis are stealing our hearts away. This one comes with a boho-ethnic tassel detail, the evergreen Mandarin collar and a super relaxed fit. Pair it with your statement jhumkas and go-to Kohlapuris and own the gypsy girl in you.
Colorful Tassel Detail Mules
If you're all about mixing contemporary styles with ethnic prints, Chalk Studio's Ikat mules are the right choice. They blend in with ethnic ensembles as well as classy formals. Made with a jute top and a rubber sole, they're definitely a worthwhile investment you'll wear for years to come.
Ikat Print Clutch
If you're still new to the Ikat game, start with this small but beautiful clutch. The intricate pattern is really eye-catching against a brown-beige base. It stands out against a basic outfit and blends well with a jazzy one. It might look tiny but trust me, it's big enough for ALL your essentials.
Ikat Fringe Shirt Dress
Add this uber-cool shirt dress to your work wardrobe asap! Its navy base accentuates the ikat just the right amount, the formal collars make it work-friendly and the fringe hem? It's so different from what we generally wear. Pair it with your go-to sneakers and rock the look wherever you go!
Multicolour Ikat Slides
These vibrant slides are exactly why we love ikat so much! They have the comfiest padded sole, the top is made with the very popular American crepe, and we're digging the multi-coloured combination. Pair them with your next casual OOTD, and perk it up effortlessly.
Pink Ikat Dress
This one is another masterpiece from Bohemian Dream's, well, dreamy collection. The happy-hued dress comes with trendy knot-sleeves, an HR-approved knee-length and of course a gorgeous ikat print. Pair this with statement oxidised jewellery and metallic kohlapuris to give a bohemian edge to your outfit.
Two-tone Ikat
Yes ladies! Our classic totes come in Ikat too. This one's made with cruelty-free, vegan leather, is spacious enough to carry all your essentials and the blue-white combo? It's everything! Paint your outfits colorful by bagging this one from Botua's incredible collection, only for INR 899.
Convertible Leather Bag
Handcrafted by karigaars using leather and overlays of woven fabric, this bag meets our standards of beauty, utility and durability. The brown knot gives it a super compact look, and combined with the blue? Looks super chic.
Handcrafted Ikat Slip-Ons
These deep-toned ikat slip-ons are perfect for 9 to 9 kinda days. They're super lightweight, fit really well and look awesome with pretty much everything. Pair them with pastel summer dresses, or your go-to denims for a casual look.
Monochrome Ikat Kohlapuris
These ikat kohlapuris come with the comfiest cushion base, perfect to run around in all day. The white suede top balances out the most OTT outfits and blends in the most casual ones too.
Pleated Cream Ikat Slides
Another one from Tiesta's incredible collection, these pleated slides are so different from what we generally wear. The ikat is so beautifully blended in, the base is cushioned (yay!) and the colour's super versatile.
Ask Divita a question