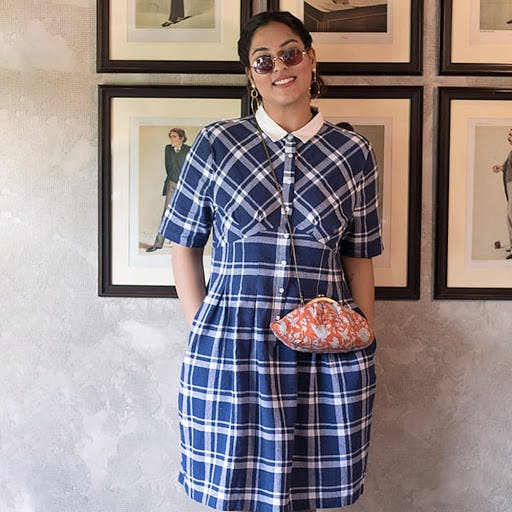 All Plaid Everything: Starting ₹899
Plaid turns out to be my absolute go-to saviour when it comes to cozy and comfortable clothing. You can find me with my trusty flannel shirt almost once a week and I'm not stopping anytime soon.
Plaid, also called checks, or flannel- is something that allows you to create looks ranging from girly to grungy, and even super formal. Flannel does it all and I couldn't be more elated about it. LBB has some GREAT flannel finds that you're going to wear almost-too-often shamelessly, just like I do.
Checkered Gingham Blazer
A checkered blazer is something that you could effortlessly carry off when you're heading to work and need something structured yet comfortable or even a brunch date with your friends. Pair this with some matching pants and a white tank or even a shirt and some basic black cigarette pants.
Handwoven Grid Checkered Shirt
The trusty checkered shirt is a fail-safe pick while also being a good break from the usual red and black plaid shirt. Handmade and a distinctly green, you can pair this shirt with some distressed jeans and your favourite sneakers!
Cross Chequered Contrast Collar Shirt Dress
The best part about shirt dresses is that they're flattering for all body types and are effortlessly chic. This dress is cinched at the waist and and varies its prints to give some more dimension and give you an incredible silhouette. How cute is the peter pan collar!?
Line Checks Print Solid Yoke Dress
Plaid has made it's way to every form of clothing and it seems to work effortlessly even when you have an inkling that it won't. A comfortable choice, this is probably one of the breeziest ways to rock some checks and we're here for it! It's just ₹1000 which only adds to the 'check'list of all the things good about this dress.
Navy Checks Midi Shirt Dress
For a more semi-formal plaid look, this midi shirt dress is easy to pull off whether you're at the office or at the golf club having some high-tea. How very posh of you. The navy checks are super eye catching and need nothing more than a simple cinch on the waist for some accessorizing.
White Checks Textured Top
A staple by it's very appearance, this textured top makes checked shirts much more interesting and its cuts and collar-style allows it to have some more character than a basic top. Pair these with super light-washed ripped jeans or formal pants, it's so easy to wear no matter the setting!
Comments