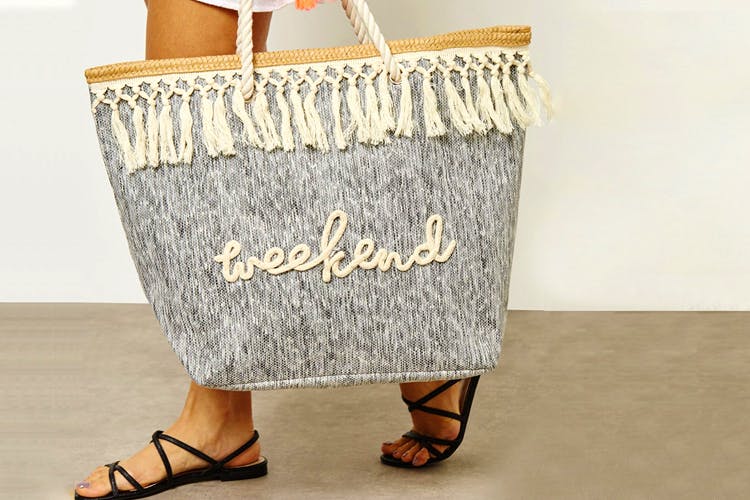 10 Awesome Beach Bags You Need This Summer
Planning your next vacay? We've rounded up 10 awesome beach bags to carry on your summer trips, from practical canvas totes to colourful duffle bags.
Vacay Canvas Tote
Towel? Check. Swimsuit? Check. Yum snacks, sunscreen, and sunglasses? Check. Check. Check. This bold tote bag is super spacious and will give you major vacay feels all your round.
Multicoloured Tassel and Aztek Woven Maxi Tote
This quirky beach bag featuring multicoloured fringes and an aztec print will have you looking forward to bright days ahead.
Weekend Fringe Tassel Tote
If you have a tendency to overpack and yet want to step up your Instagram, you'll fall in love with this statement bag with fringe detailing.
Aztek Print Canvas Tote
A little color goes a long way in the summer… We're loving the shades of blue and pink on this super durable aztec printed tote.
Hola Beaches Metallic Print Canvas Tote
Hey beaches, meet this awesome canvas tote bag. It's sure to make a statement and step up any vacay outfit.
Black and White Stripes Tote
Bored of your basic totes? This black and white printed jacquard bag with multi-coloured tassels is all the rage right now. It's got 3 pockets so you can conveniently store all your essentials as well.
Beach Hair Don't Care Tote
You'll catch everyone's attention thanks to this sassy canvas tote. This refreshing colour + carefree attitude = vacay goals. You're welcome!
White Canvas Tote
This whimsical tote is big enough to fit a beach towel, flip flops, sunscreen, camera and much more. Get all set to explore, globetrotters. And like the bag says – Let's Travel!
Neon Duffle Bag
Carry this quirky duffle bag for your next vacay to lug around some extra pounds. It offers a lot of room and it packs away easily, making it the perfect travel accessory.
Beach Please Tote
If you need a super light and versatile beach bag that'll go with all your outfits and lug around your travel essentials in all day, then this one's for you!
Comments