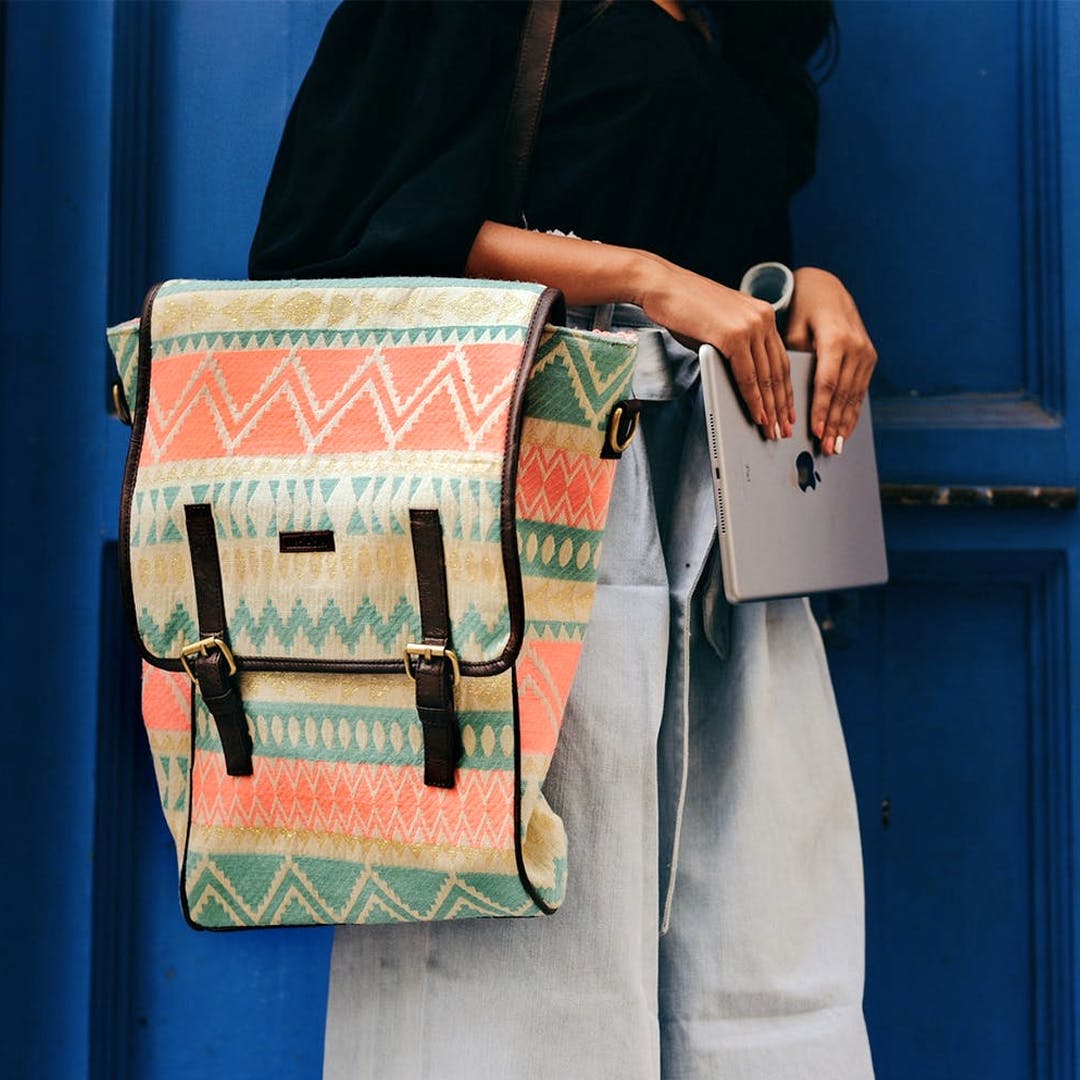 11 Awesome Backpacks Starting At ₹599 Only
Gone are those days when backpacks used to remind us of the good old school days. It's 2019, and we can spot the likes of Gigi Hadid and Rihanna swapping their bags for trendy backpacks. We've tried & tested all the styles and designs mentioned below, and have curated this list for all your backpack needs- be it work, play, a beach party or a trek. These 11 backpacks are easy on the eyes and back... and your pocket!
Black & White Dot Stripe Backpack
Whether you are hauling your lunch or your laptop, this super spacious monochrome bag by Anekaant looks good with every OOTD. We love the colourful tassel detailing for those boho-cool vibes.
Handmade Sea Green Spiral Tie-Dye Drawstring Backpack
Treat your inner hippie! Try this handmade bag by Huedee, made using tie-dye techniques (another top trend of 2019!) It is uber cool, a complete head-turner and very, very light on your shoulders.
Black & Pink Buckle Backpack
Think backpacks are too casual for you? Check out this super classy piece from Tangerine Handcraft. It's roomy, secure and a great pick as work essential. Also, we're digging the pop of pink on this piece.
Chevron Stripes Front Pocket Backpack
This one may look small, but it's mighty when it comes to storing your essentials. We love the teal and white chevron pocket against the dark tan base- makes for a perfect college companion.
Holographic Backpack
Holographic backpacks is all the new rage this season! And we are totally digging this glossy and super cute piece from Noam. Amp up the glam quotient with this bag- carry it to your next beach getaway, or a gig (festival season's coming up!)
Kilim Patch Leather Front Zip Backpack
This killim patch vegan leather backpack is all things boho. It's super spacious with extra pockets to help you stay organized. We can totally see our wanderer alter-ego carry this piece by Boriya Basta to our next trekking adventure.
Jacquard Multicoloured Aztec Pattern Backpack
Carry a million things in your tote? This ones for you! This SUPER colourful backpack is also super spacious. Our editors are obsessed with pretty much everything by Maisha- and this bag has made it to everyone's wishlist.
Geometric Print Blue Backpack
This trendy piece by Vivinkaa definitely looks for more than INR 599. Stack your books, wallets, make up and every useful essential as this bag has got your back!
Lavender Backpack with Double Buckle Closure
This classy backpack by Akiesha is a complete winner. First off, we love the colour. Keep things light with this beautiful lavender tone bag; it's great for work, too.
Multipurpose Zip Closure Backpack
Sleepovers with your girl squad or weekend getaway? This stunning piece by Juno Statement has got you covered. Also, in case you want to use it as handbag - those straps are detachable!
Pearl & Stud Outline Backpack
This stunner by Noam comes with an edgy twist to the classic black backpack. The chic pearl and stud detailing makes this number a total rockstar.
Ask Kanupriya a question