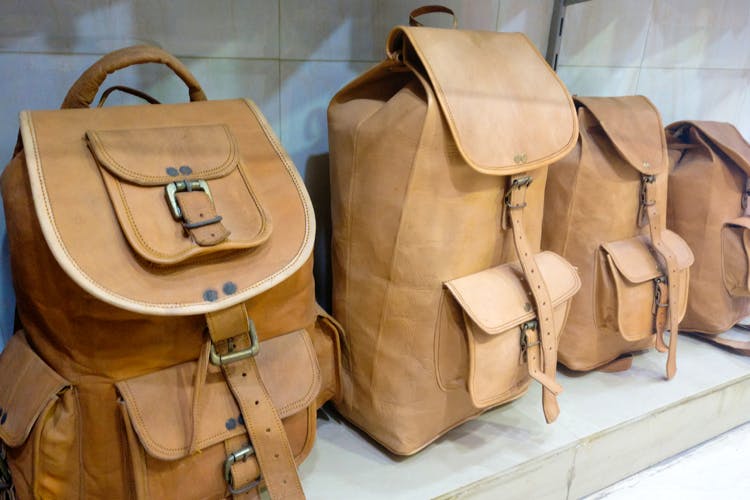 Barkati Handicrafts In Paharganj Is Bringing Sexy Bag{s}
Shortcut
Leather goods in Paharganj sounds like a cliché, but we promise that Barkati Handicrafts' bags are raising the bar.
What's In Store?
Like we were, don't be fooled into thinking Barkati Handicrafts has a limited collection; their tiny store opens up to a massive basement with bags perched on shelf after shelf. Leather, woolen, embroidered and suede, their bags cater to all kinds of temperaments.
Whether it's tassles you're hanging your hopes on or you can't stand too much drama and want to go simple, make sure you have the moolah to take that winning bag home. The leather slings are priced at about INR 1,000. There's another benefit to paying by cold, hard cash; they're willing to sell at discounted prices.
The Cat's Out Of The Bag
Taking you straight back to art class, we found a bag that paid a quirky tribute to our drawings of a solitary house in the mountains, flanked by a tree and a lake. It's not printed, but embroidered with threads of vibrant colours.
Channel your inner Goa-loving, dreadlock-sporting hippie with their super trippy collection of woollen bags, complete with an 'Om' symbol.
However, if you're more low-key, their leather backpacks can carry you from work to the weekend without as much as a stuck zip. If the brown of the bag doesn't impress you, they're happy to polish it in a hue you like.
So We're Saying...
If you're feeling groovy but plan to stay on a budget, we think you need to hit Barkati Handicrafts up.
More Information
Barkati Handicrafts
Nearest Metro Station: RK ASHRAM MARG