The information in this post might be outdated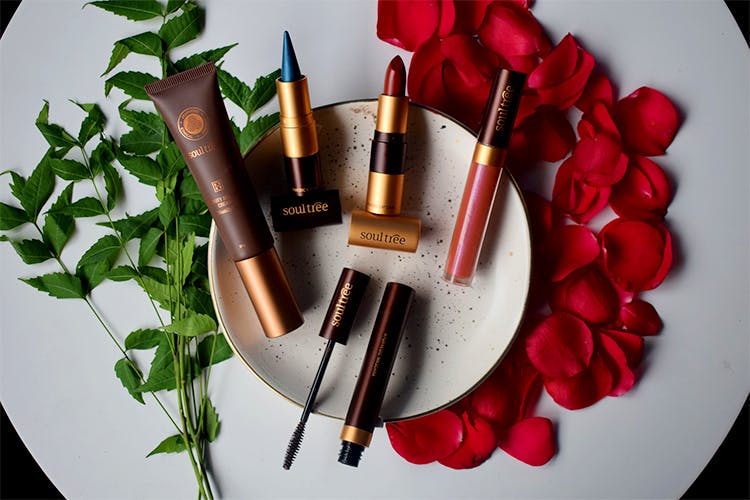 Shop All Natural Beauty Products From SoulTree And Get Flat 20% Off!
If you use make-up on a daily basis, it's about time you ditch the heavy duty cosmetics and invest in something soothing and natural to keep all your skin woes at bay. Lucky for us, SoulTree has got us covered with their range of ayurvedic beauty products. And that's not all—they are giving 20% off to all LBB users if you shop for INR 1,199 and above. All you need to do is use LBBxST20 during checkout. Hurry because this is valid only till September 21.
All That Shine
Glam up your ensemble with a dash of shine with any of the 6 shades of Ayurvedic lip gloss from SoulTree's latest range. Pucker up and say goodbye to unhealthy lips because these products contain almond oil, rose oil and wild honey, which will provide moisture to your lips and heal up the cracks, unlike regular lip glosses.
LBB Recommends: Lush Berry, Nude Pink
Dash Of Colour
Looking for that perfect lipstick that gives you the everyday look while lasting for hours without chapping up your lips? Get all of that with SoulTree's range of Ayurvedic lipsticks available in 16 shades of berries, mauves, browns and more. Made up of natural pigments and ingredients like wild honey, almond oil and ghee, these products not only add a dash of colour to your lips, but also keeps them moisturized for hours.
LBB Recommends: Rich Earth, Glowing Violet, Candy Floss

Keep Your Eyes On The Prize
For women who can't do without their kajal, check this out. Easy to apply, this kajal literally glides over your lids. All 12 shades are made up of natural pigments, which protects the eyes while making them stand out and consist of camphor, which helps with cooling and cleansing in addition to their signature ghee and almond oil base.
LBB Recommends: Pure Black (of course!), Purple Haze, Moss Velvet

Lush Lashes
Can't deal with fake eyelashes? You're in luck because SoulTree has recently launched their range of all natural mascaras in black and brown. Made up of castor oil, black seed oil and organic tea leaves, use this mascara on a daily basis without being worried about any negative effects. On the contrary, it will nourish your lashes while making them stronger and leaving you with behind a natural everyday look.
Get That Flawless Look
Sort out your daily makeup routine with SoulTree's newly-launched ayurvedic BB creams, available in 5 different tones. It settles down perfectly and evens out your skin tone with a natural-looking matte effect. And that's not all—this product also has a lot of benefits for your skin (unlike most makeup products). It contains sandalwood, licorice, turmeric and pink lotus, all of which are super-effective in reducing pimples and skin damage, and giving your face a natural, long lasting glow.
So, We're Saying…
Wake up everyday with skin that feels as awesome as it looks! Add these beauty products to your kit and get that perfect #DailyMakeUpLook. So what are you waiting for?
Comments