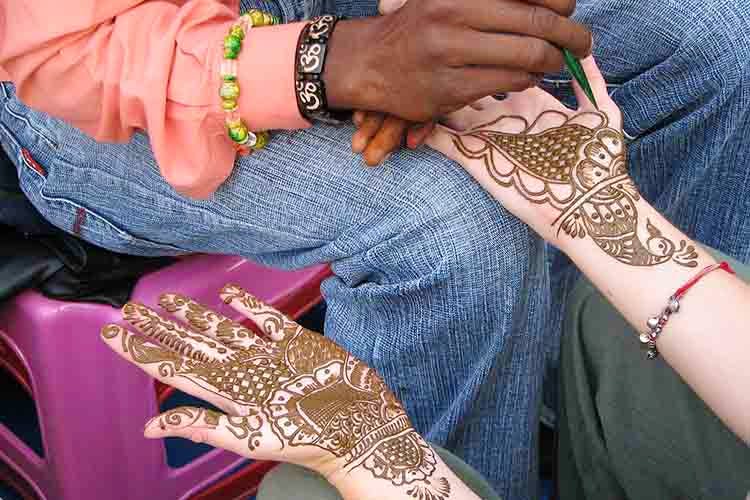 Peacocks & Paisleys: These Mehndiwallas Do The Prettiest Designs
Whether you're the bride-to-be or just want to adorn your hands with some sweet smelling henna, these mehndiwallas have your back. Choose from simple circles to intricate floral and animal motifs.
Hanuman Mandir
Hanuman Mandir in Connaught is a whole hub of henna artists. Akbar Mehendiwala is the most famous one who's always surrounded by a hoarde of customers. The guys here specialise in popular Zardosi mehndi designs popular at weddings. You can pre-book for marriages.
Price: Between INR 100 – INR 1,100
Lajpat Nagar
Right from kundan mehndi to sequin-studded Arabic mehndi and henna tattoos, you will find everything here. A regular design can cost anything between INR 100 to INR 1,500, depending upon the type. Almost all mehndi artists are equally crowded in this marketplace but Ram Mehendi Art has a certain edge over the others.
Price: Bridal mehndi ranges from INR 500 to INR 11,000
Paharganj
The group of mehndiwallas sitting on the Shelton Hotel wayside attract a lot of foreigners. The place is an attraction for all the foreign women who gets fascinated by these Indian traditions. Prices are fairly high in this area.
Price: Starting from INR 300 to INR 1,500
Karol Bagh
Yet another place full of gatherings and other attractions in this market are the mehndiwallas. Kundan mehndi and Moghlai designs are very popular in this area. Raj Mehendi Wala is the clear winner when it comes to popularity.
Price: Ranging from INR 100 – INR 200
Rajouri Garden
Ram Kumar Mehendi Arts and Rakesh Mehendiwala are the star crowd gatherers in Karol Bagh. The most popular mehndi designs here are silver sparkles and Marvari designs.
Price: Bridal mehndi ranges between INR 5,000 – INR 7,000
Comments