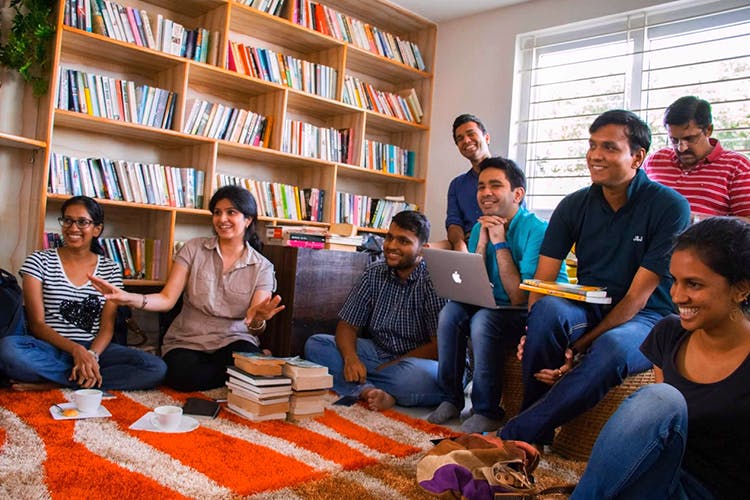 Read, Think & Discuss With These 6 Book Clubs In The City
Bibliophiles in the city, check out these six book clubs in Delhi where you can meet your kinda flock and have passionate discussions over your new (and old) reads.
Delhi Book Lovers
One of Delhi's biggest book clubs, this group aims to provide a common platform for authors and readers alike to promote and discuss new books, whatever their genre may be.  DBL also organises author-interactive sessions, events, book releases as well as workshops for aspiring writers. They usually meet up in coffee shops and you can join the next one here. For more details, you can visit their website or join their facebook group.
Reading Caterpillar
If you want to sign your little one up for a world of reading, Reading Caterpillar is your place. They have an interactive and fun library in Nizammudin West that's full of curated books for children between the ages 1-8. They also conduct regular workshops and sessions revolving around different authors, and activities such as origami and weaving. You can find more details and updates on their website.
BYOB - Bring Your Own Book
Bring Your Own Book India is a volunteer-led community and their across the city chapters are a wonderful space to meet new people with who you can chat about your favourite books and even exchange them. Instead of discussing just one book, each member is free to share their views on a book of their choice. Their meet ups are usually held in parks, cafes or in a member's house. You can find more details about their next meet up on their website.
Talking Books in Delhi
If you're one of those who's always looking for a suggestion (or loves suggesting) on new books to read, this club is the one you should join. Their meet ups are held in coffee shops, bookstores and parks and you can find out about their next meetup here. You can also follow them on Facebook page here.
The Eclectic Book Club
Run by Elizabeth and Anna, this women-only book club meets every month to have moderated discussions on their latest reads over drinks and snacks. They even sell copies of the next month's book (so convenient!). Feel free to join their next one here.
Novel Ideas
A book club based in Gurgaon, these guys meet every alternate Saturday (and sometimes on Sundays) to discuss just about any book or topic you can possibly imagine, as long as it's intellectually stimulating (along with a cup of coffee, of course). You can join this community here.
Comments