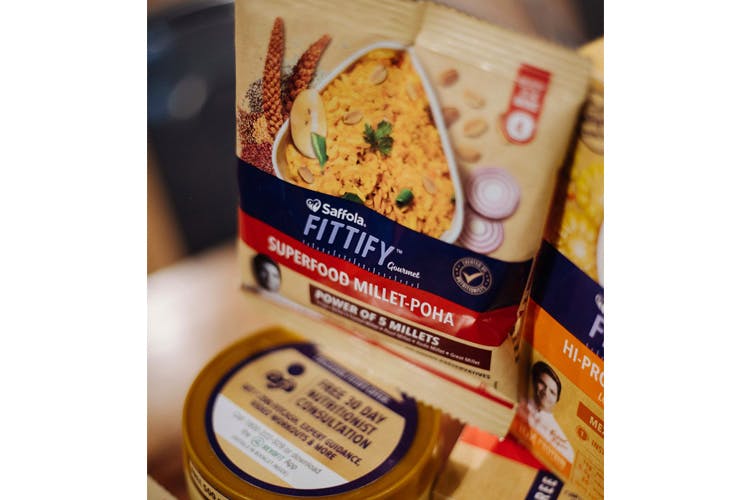 #BreakfastGoals: This Brand Will Turn Millet, Quinoa & Other Superfoods Into Your Favourite Indian Breakfasts!
How many of us have heard the statement 'Breakfast is the most important meal of the day'? Everyone, right! In the everyday hustle, we sometimes skip to have a proper first meal and resort to something quick and not so healthy. This is where Saffola FITTIFY comes in with a myriad of options available for a wholesome, healthy breakfast!

Healthy Life, Anyone?
With the constantly increasing consciousness of health, there is a corresponding rise in demand for superfoods such as Millets, Quinoa and so much more! All you have to do is take out some time in the morning, make a quick fix to breakfast such as poha or upma and start your day the healthy way!

Curated by renowned Chef Kunal Kapur using ingredients hand picked by him, Saffola Fittify's Power Breakfast Range is to look out for! If you're anything like us and always on the go, Saffola Fittify's Superfood Breakfast Range is probably going to be your go-to morning fix. It's a quick step to nutrition giving the nutrition of protein, fiber, vitamins, and minerals. The range includes Superfood Millet Upma & Poha; Superfood Quinoa Upma - Poha which has upto 80% more protein than your regular packaged ready to cook rice flake pohas. The Superfood Quinoa- Upma has upto 50% more protein than regular packaged ready to cook upmas, a jump towards a healthy life for the Generation that is always hustling.

So We're Saying..
Make your breakfast packed with nutrients and ensure that no matter what the hustle bustle is, your body gets these superfoods without much effort. Apart from being healthy, they add a great taste to the dish and are super quick to make! As the saying goes, 'a healthy body is a healthy mind'. Get the best of these superfoods from Saffola Fittify and ensure that your breakfast is the envy of everyone!
Check out the range now!
Comments