The information in this post might be outdated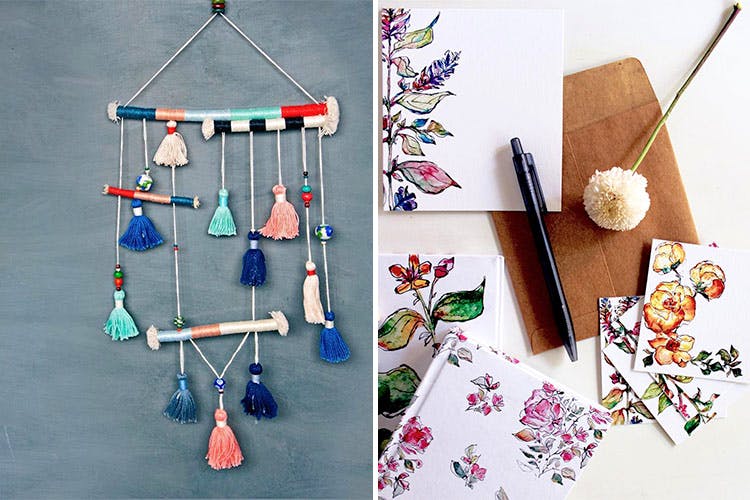 Broke Folks, Check Out This Fabric Stationery & Tasseled Wall Hangings
Shortcut
Colourscape is a Kolkata-based brand that does stationery and decor in cool fabrics. They deliver to Delhi through sites like Natty and PropShop, and even take orders on their social media pages. If you—like us—love colours, you'll dig these assorted beauties.
What Makes It Awesome
Swasti is a textile designer from NIFT, and she realised her passion wasn't having cool prints on fabrics. In fact, she sources these fabrics from local markets in Kolkata and other places like Jaipur, Chennai, Delhi and more. These are then converted into collections. When the brand began, she only did diaries (she says she's a stationery hoarder like us) and slowly the line evolved to decor.
If we were asked, we'd say we adore boho wall hangings that have tassels in every colour. The range of dairies with floral motifs is super-pretty as well. The fabrics for the cushion covers are all handwoven (and none of those factory looms that are forcing weavers' crafts into extinction). The use of beads and surface textures on solid colours is also refreshing.
The best part: You can order a one-off diary that you like, even if it's from an old collection, and have it delivered in the next 4–7 days.
What Could Be Better
They made a brief appearance at a kiosk in Select City Mall, but we wish they had a local tie-up where we could check them out in person. And how we wish they did subscription boxes—or at least limited edition gift hampers—so we could get a bunch of cool, pretty things for our friends (or ourselves even).
By the way, the cushion covers are priced above 1k, so you'll need to cushion that bank balance before you impulse shop.
Pro-Tip
Their FB and Instagram page regularly announces surprise sales.
Comments