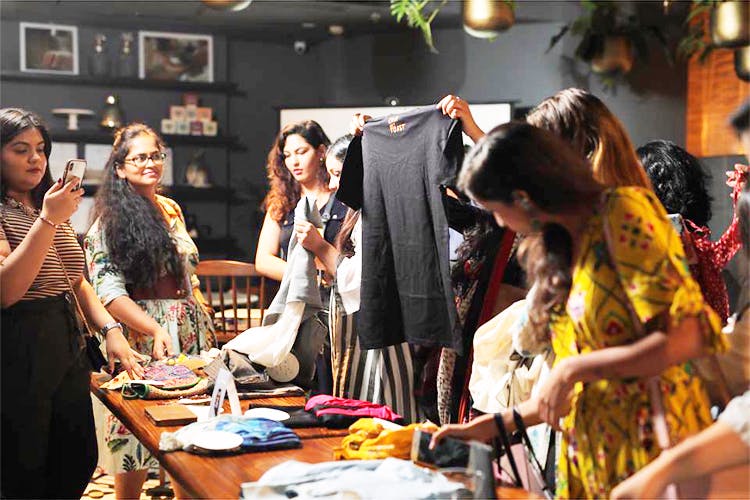 Broke Shoppers, Swap Clothes, Shoes & Bags With Other Women For Free!
Shortcut
This For That is a women-only community that lets its members exchange stuff from their closets. Swap bags, clothes, jewellery, footwear or even make-up with generous strangers from across the city. The service is currently available in Delhi and NCR and some parts of Haryana.
What Makes It Awesome
The first step is clicking the prettiest photos and uploading the necessary product details on the site–the ones you'd like to swap. Then, you assign a value to your product (in 'credits') which could be anything between 30-70% of the product's original price depending on how old the article is, how worn-out/flawless its condition or what brand you're offering (remember to be fair).
This For That team then steps in as a moderator to ensure your credits are fair and the quality of your item isn't dodgy. Usually, members exchange things of equal credits (for instance, an INR 1,200 credits worth of dress for a bag for INR 1,200 credits). Once approved, your item goes up on the website and anyone who likes it can initiate a swap request. The two people only pay for delivery (INR 150).
People can do a temporary swap where you return the product after a specific period of time or a permanent swap, where you keep it forever.
You're probably wondering what happens if someone likes something from your wardrobe, but you don't like anything from the other party (that or vice versa). Well, in that case, you can purchase credits that cost a mere 10% of the product's credits (if the dress is for 4,000 credits, you'll need to pay only INR 400). The purchased credits then get added to the other party's account, and they can use it in a similar situation.
What Could Be Better
The whole process and all the steps can seem a little too much in the beginning, but we say you go for it and see what you can score.
Pro Tip
Go through their FAQs page for answers to any questions you might have, and a detailed, step-by-step on the whole process. It's definitely worth the effort–think of scoring Zara, H&M, or other on-trend brands for a fraction of the price.
Comments