The information in this post might be outdated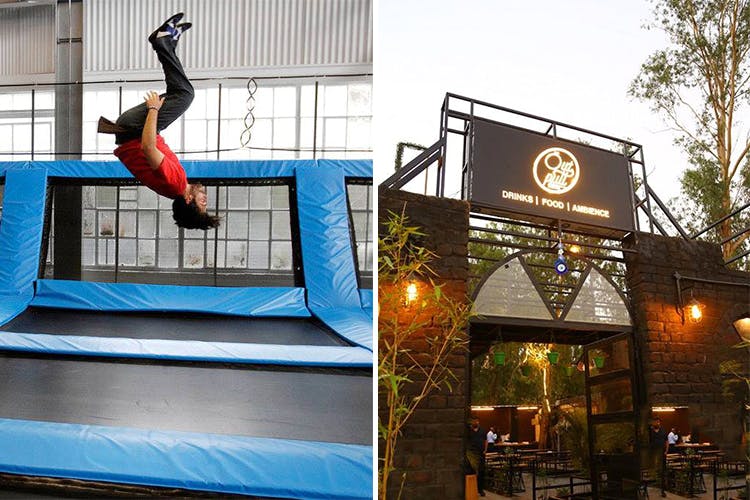 8 Awesome Things To Tick Off Your Bucket List In 2019
Didn't get much done in 2018? Well, with a new year come new possibilities! We're majorly interested in the fun ones. Here are nine things you can finally do this year to make 2019 the most kickass and fun year you've ever had.
Go To A Trampoline Park
Skyjumper Indoor Trampoline Park is spread across 13,000 sq. ft. (that's massive) and has 100 wall-to-wall interconnected trampolines you can jump on. They also have a big pool of foam cubes you can leap, hop, or go flying into. You can enjoy a jumpy game of Volleyball on the trampolines, or go for the one-on-one variant. There's dodgeball, too, so you can take out all your frustration with some well-aimed headshots.
Find out more here.
Watch A Movie At An IMAX Theatre
Delhi's first IMAX theatre just opened up at Select Citywalk, Saket. The theatre boasts a 9.1m high screen (that's almost 30 feet high!), a patented IMAX surround-sound system that'll reverberate through, right in your seat (not that helpful with horror movies), and 3D quality that'll teleport you straight inside the movie you're watching. Dubbed as the world's most immersive movie experience, this mix of technology and luxury definitely deserves a movie day.
Find out more here.
Play Bubble Football
Good Earth City Center's Oh My Game will have you playing footy with a zorb bubble as your costume. The game is played with only five players per team, and each half is only five minutes long. But the real tough part is to be inside a zorb bubble, and score a goal against your opponent while making sure you knock them down, too! That is the only way to win it. Up for the challenge?
Find out more here.
BYOB At A Bar & Get Hammered
Outputt by Machan is trying to redefine the ahaata experience. It's got yummy food to line your stomach with a BYOB scene, and an overall pocket-friendly vibe. But the main reason to head to Outputt ASAP is its beautiful outdoor area—ambient yellow lighting, planters, a rooftop and wooden benches populate this perfect, winter-hangout spot.
Find out more here.
Attend A House Concert
House Concerts turn your house into a jam pad where musicians come, perform their hearts out, and you sit around swaying to the music with your favourite brand of beer and a bucket of popcorn in your hands. You can either host a gig at your place, or go to one happening elsewhere. Donations are collected for the performing artists at the end of the gig, and you can pay what you want (the suggested donation is between INR 300 and 500 per person). The best part: It all goes directly to the musicians.
Find out more here.
Print & Drink Your Selfie On Coffee
Remember when people actually got their pictures developed? It's kind of like that… but on coffee. You choose the coffee you want, hot or cold, you send your picture to a WhatsApp number they give you, and, 5 minutes later, all the coffee beans of the world cast a magic spell and your face is suddenly floating on top of your coffee cup (well, it's actually a printing machine they use, but it's more or less magic). Narcissistic coffee run, anyone?
Find out more here.
Grab A Drink At Noida's Biggest Bar
Time Machine has got the longest bar in all of Noida and amazing views of the skyline. So, we're told it goes from being a chill lounge in the day and a party place as the sun goes down. The massive space comes with an indoor and outdoor area and a very steam punk vibe. The idea is to transport every diner to a different time zone, (hence the name). They've also gone OTT with the mechanical gears, steel fixtures and rustic lights.
Find out more here.
Give Bae The Best Surprise Gift Ever
Suck at giving surprises or gifts? Whether you're looking at something small and heartfelt (an audio greeting card? Or a special message in a bottle?) or something outrageous like a private jet flight (or a limousine drive?), Oye Happy curates a bunch of gifts and experiences across 600 Indian cities! They've got personalised, framed doodles (we're getting cupcakes, unicorns and puppies!) and handwritten letters. Also, think the possibility of naming a star after your beloved to little treasure hunts.
Find out more here.
Comments