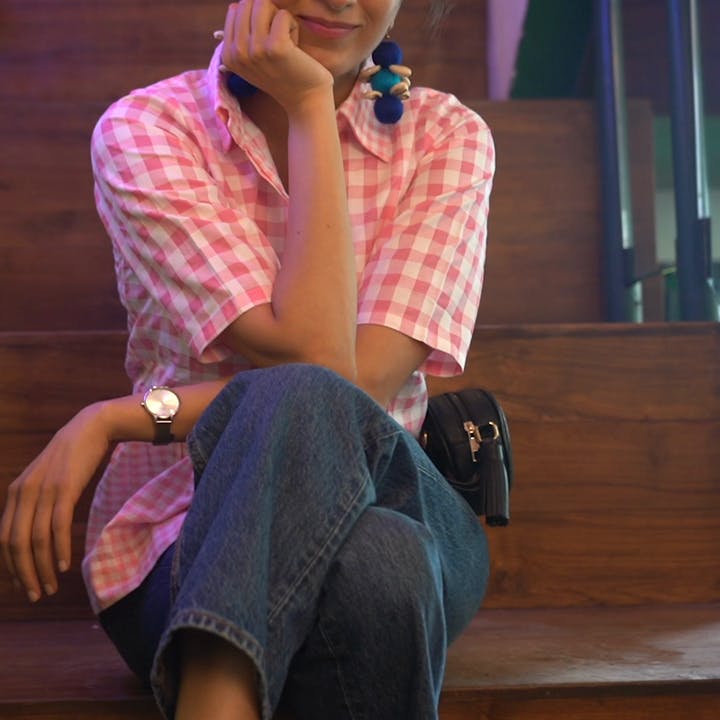 Shell Yeah! This Is My Favourite Look This Season
Listen up, ladies! I've finally uncovered the secret to trendy everyday dressing (that's not heavy on the pocket), and you're staring right at it. I found these styles on LBB and they're so easy to pull off! Scroll to check out my personal favourite look this season:
Chequered Asymmetric Shirt
I bookmarked Not So Sober as soon as I saw it on LBB!

If you're like me and love to amp up your look every now & then - their chequered asymmetric shirt is a great option. The reverse check placket is such a TRENDY addition to an otherwise, simple cropped shirt. The soothing pink-white combo is perfect for sunny days and as you might've guessed - you can wear it with ANYTHING. It's on sale on LBB, so hurry up and get yours before it sells out.
Three-Tone Wool Drop Earrings
On this particular day, I was going for a playful look and these wool ball drop earrings were the perfect pick! The contrasting blue and white is so summer-y and we all know how much I'm obsessed with shell everything. I've been wearing these with my go-to beach skirt, demure solid dresses and so much more. They're super affordable, come in Maroon & Turquoise too, and of course me being me, I bought all of 'em!

Pro-tip: Keep them away from moisture prone areas!
Comments