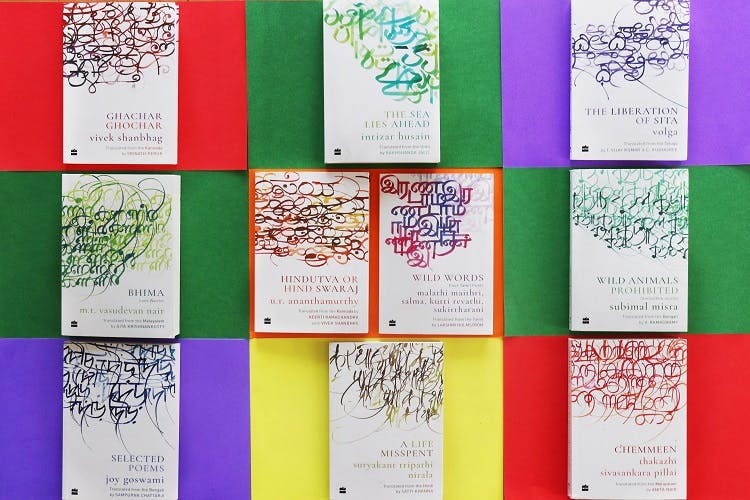 Bibliophiles, These Limited Ed Books With Lovely Calligraphic Covers Are A Must For Your Library
What Is It?
If your love for books exceeds every other love in the world, and if you, like us are bibliophiles at heart, we have got some great news. All you hoarders, book aficionados, and library-hoppers pay attention. HarperCollins is celebrating ten years of Harper Perennial – a dedicated imprint devoted to translations from Indian languages to English, with ten especially calligraphed book titles. Over the past decade, Perennial books have showcased the finest and most compelling narratives from the Indian languages, books that are timeless and stories that capture the essence of their times and the region from which they emanate.
Awesome, Tell Me More!
HarperCollins, under the Harper Perennial imprint, has translated over 90 award-winning titles in the Indian languages in English. And ten of those titles are now available as special keepsake editions under the Perennial 10 series. A range of creative people worked on each of these titles, and what came out was a beautiful collaboration of art that every bibliophile would love to get their hands on.
So, Which Titles Can I Buy?
The list consists of 10 books which were translated originally from the native language these books were written in. Covers as follows:
The Liberation of Sita — Volga, tr. T. Vijay Kumar & C. Vijayasree
Ghachar Ghochar — Vivek Shanbhag, tr. Srinath Perur
A Life Misspent — Suryakant Tripathi 'Nirala', tr. Satti Khanna
Bhima: Lone Warrior — M.T. Vasudevan Nair, tr. Gita Krishnankutty
Chemmeen — Thakazhi Sivasankara Pillai, tr. Anita Nair
Hindutva or Hind Swaraj — U.R. Ananthamurthy, tr. Keerti Ramachandra & Vivek Shanbhag
Wild Words: Four Tamil Poets — Malathi Maitri, Salma, Kutti Revathi, Sukirtharani, tr. Lakshmi Holmstrom
Selected Poems — Joy Goswami, tr. Sampurna Chattarji
The Sea Lies Ahead — Intizar Husain, tr. Rakhshanda Jalil
Wild Animals Prohibited — Subimal Misra, tr. V. Ramaswam
Amazing, What's More?
All these book covers, despite their subject matter, have a very contemporary calligraphic approach. All of them have Indian scripts on the cover with a word actually taken from the book itself – a word which is at the center of the story or which defines it completely.
And Where Can I Buy These?