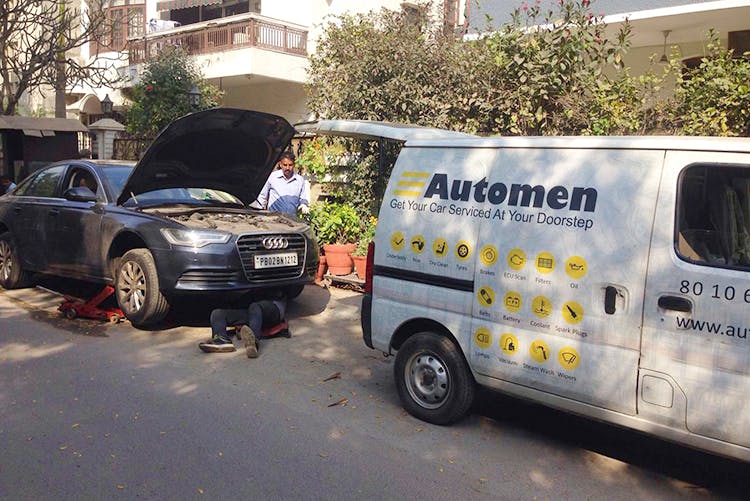 Car Servicing at Your Doorstep with Automen
Shortcut
Automen is a car servicing company that brings the service to your doorstep. Just call them up, and they will come to you with a team of experienced mechanics.
A New Kind of Servicing
Automen is a servicing concept for the ultra busy driver. If your car needs a clean, a tune up or just a check, but you don't have the time to visit your preferred service station, just give them a call, book a PitStop, and they will be at your location with a full team of engineers and service staff.
Efficient and Affordable
Started by a group of friends who are passionate and understanding about cars and driving, Automen pride themselves on efficiency. The thought of not having to leave home to get our car serviced, or to argue over the exorbitant rates being charged at a service centre, leaves us giddy with excitement.
Not only are they providing skilled work at pocket-friendly prices, but the fact that Automen come to your designated location means there is complete transparency in the process. They even provide genuine spare parts and engine fluids on request.
What Do they Provide?
If you're looking for a cleansing, you can get your car vacuumed, dry cleaned, and polished. They also provide steam washes, under body cleaning and waxing. If it is a check-up you are after, let the professionals at Automen run your car through a road test or bumper-to-bumper inspection.
On ground, in person they can refit your car with all oils, fluids, filters and essential parts and even have computerised systems to help with mechanical car system errors.
Convenience is King
Automen's biggest selling point is the convenience. Whether you're at work, or at home, now you never have to be without your car. All you have to do is book an appointment, stay where you are, and in less than two hours they will have your car up and running.
With an experienced team, technical know-how and a personalised service, what more could you ask for?
Timings: 8am – 7pm
Contact: +91 8010696969
Price: Book a PitStop and get a quote, here.
Comments