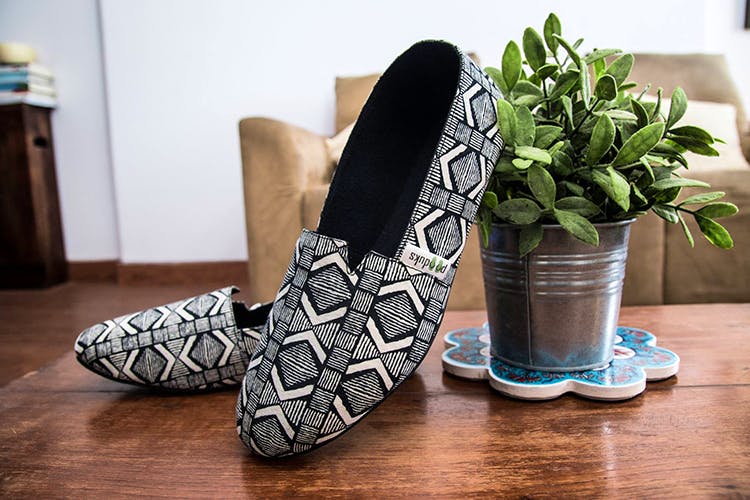 Colourful Handmade Shoes By Paaduks
Shortcut
Paaduks, a shoe brand started by engineering students, brings the craftsmanship of the Thakkar Bappa Colony cobblers to the fore. Expect vibrant fabric shoes depicting prints such as ikat, ajrak and the like.
The Old With The New
There is a traditional colony of cobblers at Thakkar Bappa Colony in Kurla, Mumbai. The founders of Paaduks went and approached them directly. Whereas some were fierce and opposed them, they did manage to convince a few of them to make shoes for Paaduks, and that's how it all began.
Paaduks creates a range of slip-ons and loafer-type shoes for women in vibrant prints such as ikat, ajrak, daboo and kalamkari. Pair these with a traditional salwar kameez or even your favourite pair of jeans to make a statement.
Eco-Friendly And Beautiful
Paaduks comes from the Sanskrit word paadukas, which is the name of India's oldest footwear. It essentially just means footwear.
Their shoes are made of natural fabrics like cotton and jute, and other vegan materials; the soles are made from up-cycled rubber— discarded tyres, used conveyor belts, old rubber mats and so on. This does not involve any chemical processes, thus keeping any carbon footprint at bay.
Founders Jay and Jyothsna want to inculcate a sense of eco-friendliness among customers, and strongly advise that new entrepreneurs always stay ethical.
Where: Shop online here
Price: Starting at INR 1,199
Follow them on Facebook here.
This post first appeared on Peacock In The Rain here.
More Information
Comments