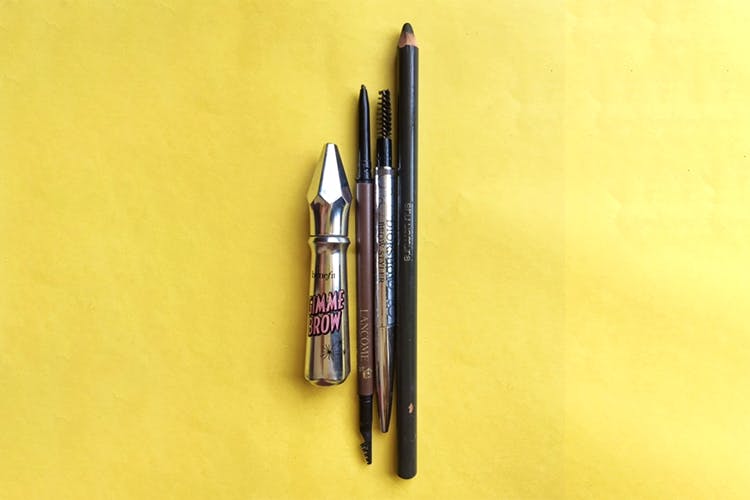 Contour Eyebrows With These 4 Mistake-Proof Products
If your eyebrows are groomed and beautifully shaped then you can literally get away with just a touch of concealer and blush. The idea is to only fill the gaps with a colour that matches your hair, and ensure that the brows are lifted up, not drooping down…and that's it. With this in mind we've listed four of our favourite tried and tested products, which look natural and yet, enhance your eyebrow shape.
Benefit Gimme Brow
This fabulous brow gel contains tiny micro-fibres that adhere to your brows to make them appear fuller and thicker. For best results, brush eyebrows through from back to front, and then front to back to ensure every strand is covered.
Buy here.
Lancôme Les Sourcils Definis
This super-precise, long-lasting eyebrow pencil is great to draw single hairs on sparse patches in your brows. The self-sharpening tip draws hair that looks very natural and as promised, does not smudge or budge.
Buy here.
Dior Show Brow Styler
This is a simple product, with the pencil at one end and the brush at another. Use the brush to look for sparse spots while you comb your brows upwards, and the self-sharpening tip to fill in those spots.
Buy here.
Shu Uemura Hard Formula Pencil in Hard 09
The pencil draws on a sheer, transparent grey shade, which means that you can draw natural looking brows, add arches, change the shape…literally anything you want even if you hardly have any brows. This is so natural, and so good!
Buy here.
This recommendation was first posted on vbeauty.co.
Comments