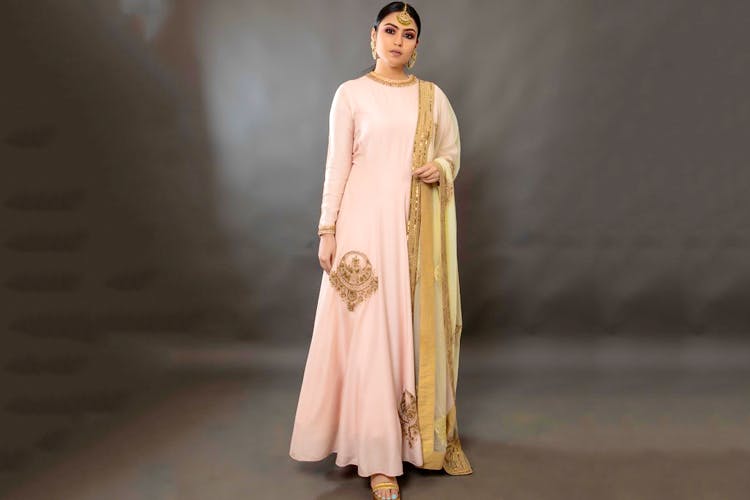 Couture Addicts, This North Delhi Designer Has Got Everything From Wedding Wear To Everyday Casual
Situated in the bylanes of Ashok Vihar, we found a store called Chakshu Couture that is full of smart casual wear, party wear, wedding wear and more! Ladies, get ready to give your wardrobe a well-deserved makeover.
"Vers(a)tylish"!
These outfits are not your run of the mill designs. They're trendy and chic with detailing, interesting silhouettes and bold embroidery - which makes all their creations modern yet subtle. So if you've got a grand party lined up or a big family wedding that you simply cannot miss then head over. Whether you're out with friends or fam, they've got something for everyone. The best part of their collection is that most of their clothes are versatile. They've got a beautiful red gown with a detachable shoulder brooch, depending on how much you to glam up for the night. This one's a must in your wardrobe for your next cocktails under the moon kinda night. If you feel like experimenting a bit, you can try out any of their outfits with detachable collars. They are giving you options that you can work on as your mood progresses during the day.
Create Your Couture
The designers will fit the outfit inch by inch. If you want an outfit customised, just meet the designers to create that dream gown or kurta and tell them your preferences regarding colours, fabrics or the design. In addition to their custom-made designs, they also stock trousseau in western, ethnic wear, cocktail gowns, work wear for ladies, dresses. Wanna twin with your partner? These guys will also make matching gowns and ethnic wear for men! And if you're into the mix-and-match family outfits, then they've got parent-kid duos as well as matching couple outfits. Get ready to spam your IG fam with major #FamilyGoals.
#LBBTip: Get to pick some of the masterpieces from their new collections like Arman and Sandook at pop-ups happening across the city.

So, We Are Saying...
Created with a delicate handmade touch, these outfits give a fresh approach to all you fashion-forward women in the house. Whether you're in the hunt for that picture perfect semi-formals or lightly embroidered gowns for glam occasion, or a fancy suit or jumpsuit with the modern cut and light ethnic or modern touch embroideries for a classy evening out - take your pick from all that they've got. Their daily wear and smart casuals start at IR 2500. ANd if you're in the market for a beautiful gown or party formals that will make all heads turn towards you, they've got those too starting at INR 10,000.
You can contact them at +91 7042727932 or 011-47095802 for enquiries.
More Information
Chakshu Couture
Nearest Metro Station: KANHAIYA NAGAR
Comments