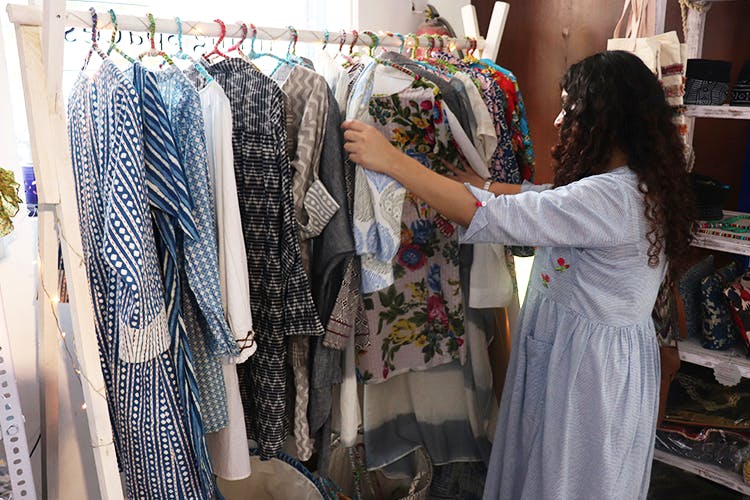 Been To This Store With Kantha Bedsheets & Indigo Kurtas In Champa Gali?
Shortcut
On the outside, Filling Spaces could pass off as a hipster cafe with it's turquoise wall and fairy lights but there's a lot more than meets the eye. This (mostly) decor store is 8-years-old and is an ode to pretty-looking houses that are subtle and muted.
Sisters Who Work Together...
Started by Nanu and her sister who stays in the USA, the brand is a sheer labour of love and a great match for their varied interests. Nanu was an advertising person while her sister is into fashion design. This ensured that they could work together in tandem; to keep things going smoothly between the design house and the production unit. Hand-painted rugs, dip dyed stoles, Kutchi embroidery cushion covers, vintage kantha duvets, junk jewellery, tunics, kurtas, travel pouches… Everything is made in their workshop that's a part of the store.
The sisters take a lot of care in the designing and sourcing process (they even design their own blocks to print) and make sure that they're there to customise sizes in case you want the rug bigger or the tunic a size smaller than the tiniest one on the hanger. Often, you can peek at the masterjis who are hard at work, stitching, sewing, mending and creating. The army of tailors have been with the brand for years and will indulge you in good meaning small talk if you have questions.
Everything in the tiny store wears an earthy, comforting feel. The duvets will make you want to never leave the bed, the aprons will make you want to start baking and the tunics, will make you want to hit up an alternative film fest right away.
So, We're Saying...
Want to see more designs before making a trek to Champa Gali? See here.
P.S. We'll judge you if you leave without having coffee at Jugmug Thela.
Comments