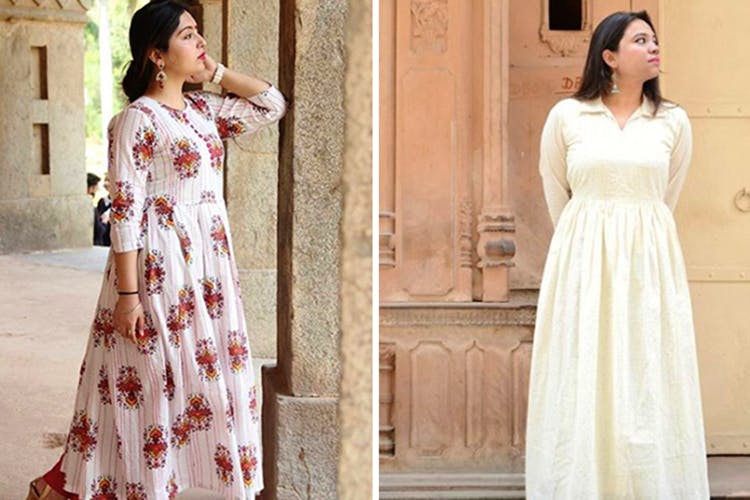 Maxi Dresses Or Party Kurtas, This Brand's Affordable & Perfect For Summer
Shortcut
Around My Twirl might just be six-months-old right now, but they're becoming our go-to for both ethnic and contemporary clothes. The best part: They're open to small customisations, and their prices start at INR 900.
Pants, Be Gone
Puneet started her homegrown label and is literally a one-woman army, managing shoots in between taking orders on her Instagram, and finally shipping them. She says she's designed her collections to cater to every woman from the age of 20-60.
You'll find a fit-for-mummy kind of salwaar suit alongside a summer dress that we'd gladly pick for a laidback summer drunch. This shiny neon dress, for instance, is going to be our cheat for family get-togethers where we don't want to be grouped with suit-wearing aunties.
She says she occasionally does make outfits from scratch, but her forte is her line of ready-made outfits. You'll also find everything from casual tops, dresses, kurtas (with and without dupattas), palazzos, summer pants and more. We love how everything has a relaxed vibe, and the silhouettes are just right for the heat (none of those fitted dresses in synthetic fabrics. Ick ick). Two-piece suits go up to INR 2,800, while dresses start at INR 1,200. 
Also, Puneet's comfy making small customisations, in case you want your dress with sleeves, or that dress you saw made longer than it is in the photo. This means that size is also not an issue, since you're never going to be running from pillar to post trying to get something you bought altered.
So, We're Saying...
This Anokhi/Soma like kurta with pants is our favourite. And, this white dress is taken. So, look elsewhere.
You can check out all the designs from the brand here.
Comments