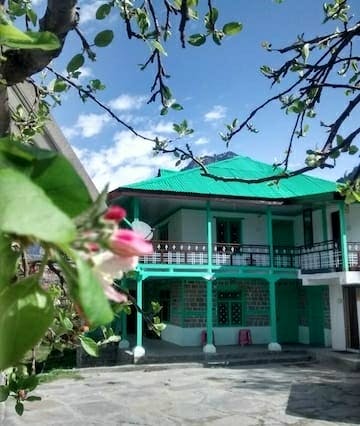 Escape From The Capital's Pollution & Head Over To Hamptan Home In Manali
What Makes It Awesome
To be very frank, initially I was a little sceptical about the whole place, but everything was crystal clear the moment I reached and saw the spot, located far away from the hustle and bustle of the busy tourist city of Manali and surrounded by apple orchards in a village called as Shuru on the outskirts. The place offers a typical Himachali style wooden house homestay along with an extremely friendly and cooperative host Sandeep. More surprising was that this spot is a one-stop solution to everything you want to do in or around Manali which includes hiring bullets, cars, planning for treks, hikes, campfires. Also, the host is a tourist guide by profession and he knows his job just too well. And if you are looking for food like the real food no need to go anywhere as the best homemade food is available there which is both exclusive and finger licking awesome.
What Could Be Better?
The room is naturally airy and it becomes quite cold at night. So you must come a little prepared.
What's My Pro Tip?
If you plan to do any sort of adventure kind of stuff both in around and near to Manali. I would recommend prior reaching or making your plans contact the host and I am sure they will help you plan it and if you want help you organising it too.
Anything Else?
This discovery I owe to Air BnB and they are super hosts. I personally never heard a no from the hosts for anything at all. Well maintained wooden floored rooms which make them naturally air con outside they have a courtyard as parking and also for bonfires in the night if you request. A local woman prepares the food that you wish to have just let them know well in advance. Great people at heart and hospitality. Also, don't forget to meet Tiger - the pure German Shepard as he's an attraction too. The place is attractive and worth the time and effort.
Comments