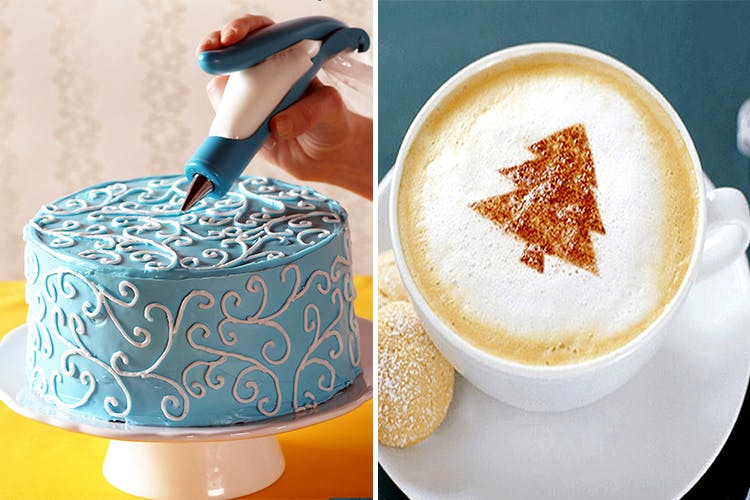 Everyone Will Ask Where You Got These 5 Fun Products From
Ditch the regular stuff–we found some fun products by HitPlay that'll make your day much easier (and more fun?).
Coffee Stencils
Morning java fix needs to look as good as it tastes? HitPlay has coffee stencils in shapes like panda, trees, leaves, bows, smileys and more to give a face to your daily coffee.

Self Stir Mug
Who needs a blender or even a spoon when your mug stirs your drink itself–technology FTW? Press a button and the rotating disc at the bottom of this mug will mix and froth your favourite drinks. It's got a stainless steel finish with a snap-lock lid.

Mini Book Lamp
E-books might be on the rise, but still, nothing beats flipping the pages of a paperback (oh, and the smell of a new book!). If you tend to read a lot while travelling or are in low-light conditions in general, this flexible mini book lamp will brighten your experience –just clip it on to the cover (hard, soft, both work) and you're golden.

Icing Pen
One for the bakers! If you've been aiming to increase your precision when it comes to icing your cakes, cupcakes, or cookies, this icing pen has your back. Home bakers, you need this one in your arsenal.

Fruit Infused Plastic Water Bottle
A bottle that lets you add a dash of fruitiness to your water? Carry this around on hot days. Squeeze a citrus fruit into the fruit infuser at the bottom, fill up the bottle, shake aaaaaannd congrats, you now have fruity water.

Comments