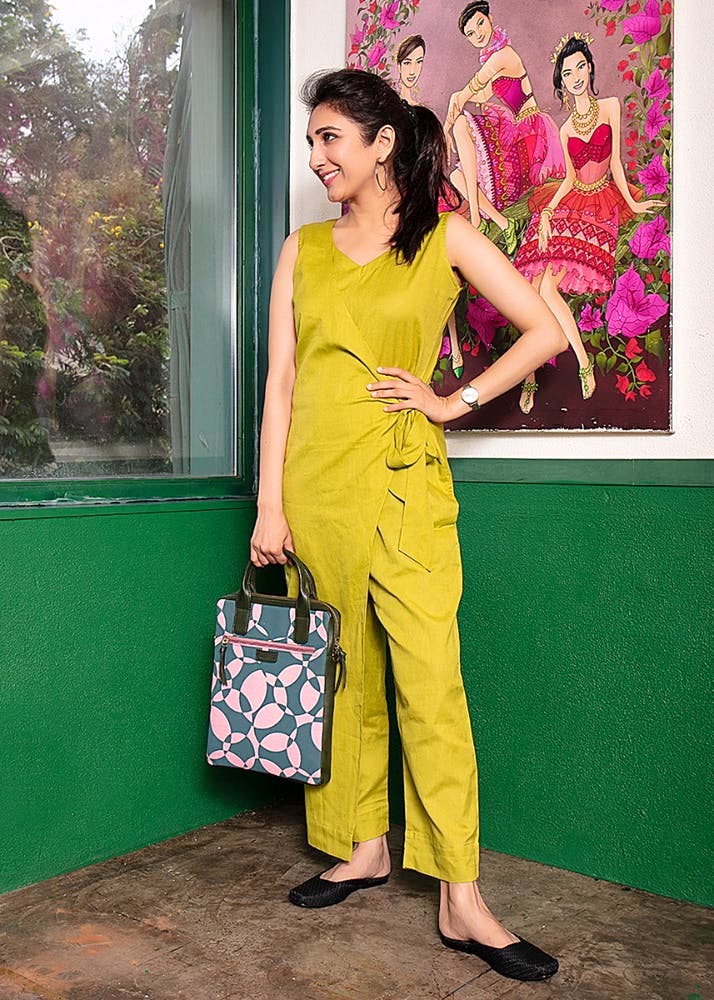 Formal Meeting Coming Up? Here Are 5 Styles That Never Fail To Impress
If you've got an important meeting coming up and need to impress your boss, don't panic. We found office-approved styles that'll make all your co-workers jealous.
Overlap Jumpsuit
Actress @kritivij has been rocking this formal look on repeat, and we're not complaining. The overlap jumpsuit is really distinct from our general workwear, I absolutely love the leafy green colour and the best part? It's really easy to pull off! Kriti finished her look with these textured handcrafted black mules (from Paio Shoes) and TBH, I'm hooked. But I have to say, the gorgeous floral laptop bag is what really did it for me - and yes, it's from another #awesome local brand on LBB called A and S accessories.
🏃🏻, get your hands on this look asap!
Stripe Denim Jacket
This stunning, clean-cut denim style is happiness in a blazer! Created with fun tape binding and functional front pockets, this will keep you snug in on a windy day and will attract attention in all the right ways. Pair it with a formal shirt, a pretty ruffle top or even your go-to denims. Our boss girl Shradha, rocked it with these uber-cool sneakers from Almari - my go-to shoe brand on LBB for quirky statement shoes.
Multicoloured Kilim Laptop Bag
Outfits aren't the only thing we need to get in order when trying to nail a trendy look, our gadgets have to look equally on-point. And needless to say, our precious laptops top the list! Handcrafted with Kilim, this colourful bag will dial up your accessory game 3000! It's not only easy on the eyes, but also super protective and sturdy. It's on sale on LBB and we can already see it selling out real fast.
Khadi Belt Tie-Up Shirt Dress
Some days, the idea of buttoned up jeans and tight-fitting shirts seems like a big no-no, but dressing up for that meeting is pertinent too. Promise you, this super comfy shirt-dress made with cotton will always come to your rescue! It comes with a clean collar detail, a tie-up belt and monochromatic buttons too. I personally love wearing it in different ways - sleek heels for an ultra-professional look, white kicks for a casual outfit or even statement flats for brunch with the gals.
Comments