The information in this post might be outdated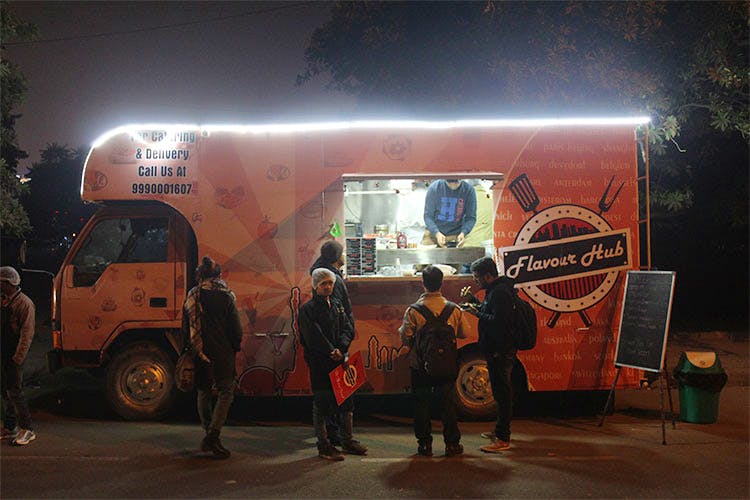 Get Bang For Your Buck at the Flavour Hub Food Truck
Ten-Second Takeaway
Flavour Hub, a food truck in Gurgaon, serves up a selection of wholesome, tasty food at pocket friendly prices.
Arriving on scene
We sit in the car on Leisure Valley Road, parked just down from the brightly-lit truck belonging to Flavour Hub, and honk the horn. A few seconds later the one waiter knocks on the window, smiling as he passes us the menu. After taking the order he rushes back to the truck, which is glowing orange, with a strip of light bursting along the top edges, visible in our rear view mirror.
A wide selection
Flavour Hub poses a multitude of questions to the empty stomach, primarily due to the abundance of choice on the menu. We can choose from wraps/rolls, burgers, sandwiches, pastas, waffles, pancakes and sides. After some deliberation we go for the Crispy Chicken Steak Burger, the veg Arrabbiata Red Pasta, and the Nutella Wonder Waffles.
The taste test
The burger was devoured immediately, but with no lack of effort. This burger is not for those who do not like to get their hands dirty. The large, nicely toasted bun can be unwieldy, and it can be messy to eat with all the veggies falling out, but it is delicious. The chicken is cooked nice and crispy, with the crunch of the pickles and kick of the jalapenos accompanying it well. The piping hot pasta was just the right amount of spicy, with exactly the flavour you would expect from an Arrabbiata. It was topped with beans, broccoli, olives and green and red peppers.
The waffles were warm, soft and absolutely delicious. Our problem with waffles usually is that they tend to smell better than they taste, but we had no such problems here, with the Nutella adding a wonderful punch of chocolate.
Post consumption
The simple food served up by Flavour Hub doesn't try to do too much but it does everything it wants to, and all at a great price. We enjoyed our meal, and still found ourselves wishing we were hungry enough to try the tempting Butter Chicken Wrap or Chinese items on the Specials menu.
Oh well, there's always next time!
More Information
Flavour Hub
Nearest Metro Station: IFFCO CHOWK