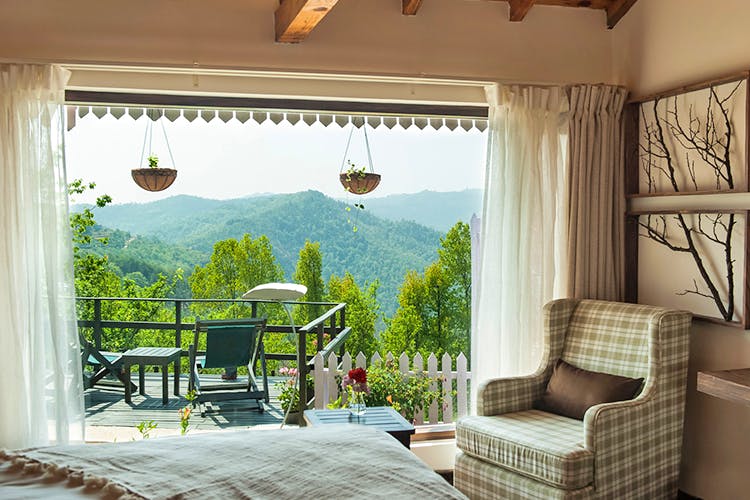 This Hilly Resort, 7 Hours Away Promises Private Gardens & Stunning Views
Shortcut
Escape to pristine peace, gorgeously fresh air and views TDF at The Birdcage, a new chic boutique resort that has opened it gates for weary city dwellers in Mukteshwar, Uttarakhand.
Hello Nature!
With the backdrop of the mighty Himalayas, and meandering lanes through verdant forests and quaint hill villages, The Birdcage is reached in an easy 7 hours from the NCR, with a little bit more if you choose to make a pit stop at Nainital. 
Cobbled Streets & Brick Walls
The Birdcage takes the aesthetic game several notches higher that what one might expect in these parts. Prepare to relax in gorgeously fitted rooms, that come with all the city bells and whistles, but with quaint flourishes that let you know that the forest isn't far away. From an elegant use of wood and brick, to a fabulous skylight for fresh warmth and light, the oneness with nature extends to the living quarters and beyond. Each of the flora themed rooms here comes with a sit-out area, and a private garden, and the grandest room of the lot even lets you indulge in a rather luxuriating semi-open shower experience.
A Walks In The Woods
Life isn't all spectacular sunsets and intoxicating sundowners though. If your idea of a holiday includes more than relaxing and drinking up the clean, crisp air, The Birdcage can also help you hike up to the top of the many jagged cliffs, or arrange for a picnic basket for a little jaunt into the jungle, lazing besides one of the many lakes that surround the region.
For some of us, the onsite board games, and an endearing catch-up with our hosts Nishant and Aphun is action enough on our weekend of chill.
The Hunger Games
The Birdcage traces its lineage to the famed Drifters Café in Manali which was known to dole out excellent continental fare amid the hills. The same team is all prepped up to show-off their culinary magic, and we are happy to inform that they meet our exacting standards. From perfectly done Eggs Benedict, to hand-made Ravioli, Crunchy Onion Rings, to a very tender mutton curry, be prepared to eat like a wild mountain creature. Wash everything down with endless rounds of the in-house special- a warming brew of honey, ginger, lime and fresh mint.
So, We're Saying...
Energise your city tired soul with an escape that is soaked in tranquility, elegant comfort and unmatched hospitality.
Comments