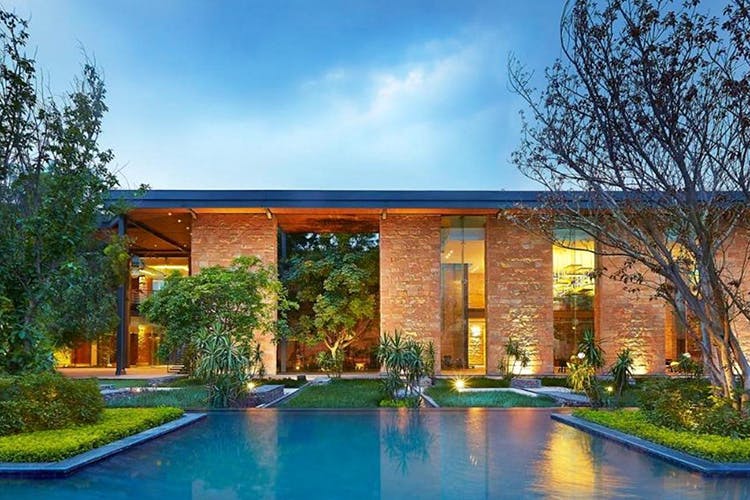 Need A Break? Rejuvenate Your Weary Soul At This Lush Resort In Damdama
Shortcut
A nature inspired sanctuary, The Gateway Resort Damdama Lake in Gurgaon is a 45 minutes' drive from the city centre and a perfect escape for urban weary dwellers who want to just disconnect for a bit.
Gorgeously Green
Set amidst 20 acres of verdant land, in the bosom of the mighty Aravalli hills, the resort offers unadulterated nature from the word go. Meandering paths, manicured lawns and the sounds and sights of migratory birds will help you escape from the manic pace of your life, and unplug and reboot. For further rejuvenation, we suggest a quick dip at an infinity style pool, or a pampering massage at the spa.
Adventure Island
If your idea of an unwind is to dial up the action levels, hit the adventure zone that lies within the property- for a round of rappelling, wall climbing, zip-lining, dirt biking and even air rifle shooting. For the old fashioned sporty types- there is tennis, cricket and even football to choose from.
Let The Feasting Begin
In a fine tribute to the local landscape, Buzz, the all-day diner at the resort serves up several dishes inspired by the flavours of the land. We love the re-imagined Kadi Chawal bowl meal- which is balanced and comforting, and a sparkling dish of Garlic Palak that pairs well with Bajra roti. Meat eaters can savour a rich Nihari, or pick an excellent grilled fish for a lighter eat.
The property is also home to an exquisite Chinese fine dining restaurant, Sian- where you can have your pick from Peking Duck in a robust and smoky XO sauce, to crunchy Chinese vegetables tossed with a bit of garlic or steamed baos and dim sums.
Don't forget to end your meal here with the fried ice-cream- crisp outside and melting inside, loaded with nuts and topped with toasted sesame- this is one fine treat.
So, We're Saying...
With stunning rooms, each with their own personal sit-outs, attentive service and the comforting calm in the air, The Gateway Resort Damdama is the much needed pampering you've been waiting for.
Price: 12, 000 INR plus taxes per night for a Deluxe Resort Room for two
Also On The Gateway Resort Damdama Lake Gurgaon
More Information
The Gateway Resort Damdama Lake Gurgaon
Comments