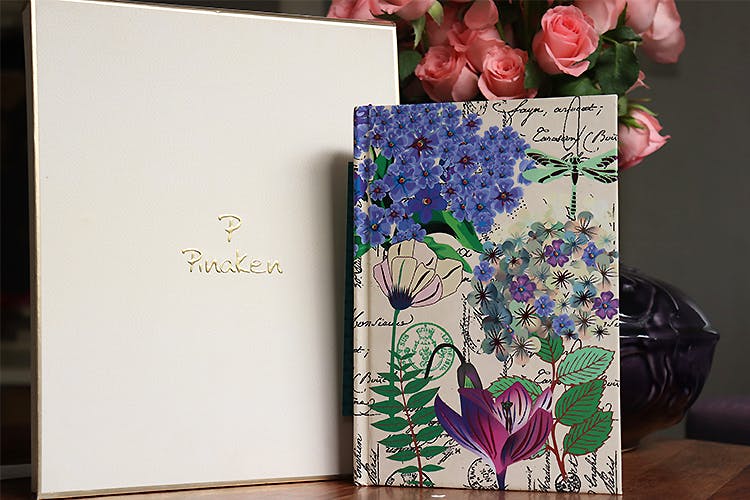 Last-Minute Gifts, Stationery & Quirky Accessories: Here's One Brand That Rules Them All
Shortcut
Diaries, notebooks, luggage tags, laptop bags, stationery pouches, phone covers, wallets… We were as stunned by the variety of products Pinaken has in its bag as we were by its funky designs. Love colour and like everything bright? Pinaken's heard you. 
Take It, Or Sleeve It
The brand was started by one woman whose love for design took her far and wide and today, her products sell across 21 countries. Here, everything celebrates the spirit of hand-made. Products are printed, hand embellished and embroidered by artisans who have a keen eye for detail. They've in fact maintained a balance between modern aesthetic that is somehow steeped in tradition. This approach is what we find utterly refreshing; a treat to sore eyes and broke pockets.  Not moved by this success story? Wait till you see  The notebook section with sewing machine motifs and crazy trunks and these phone covers that'll protect and beautify your iPhone. This hot air balloon laptop sleeve just made it to our cart. And, we're not stopping here. Vintage Eiffel Tower motifs or the evergreen Ikat, the brand believes in growing by experimentation. You can filter the designs and make sure that whatever you pick is as apt for that shopping-obsessed friend as it is for someone who's always watching documentaries at the IIC. Pinaken has tied up with gifted craftsmen who are responsible for bringing the cutest vintage designs to life. Aside from innovatively putting their talents to use and giving the less privileged a means to to a better life, the folks on top also ensure that the factory adheres to the strictest labour, hygiene and safety norms. All in all, you can rest assured that the laptop sleeve you picked up has been ethically and lovingly made. And, it'll make you stand out in a crowd. 
So, We're Saying...
Check out the entire collection and order here.
Comments