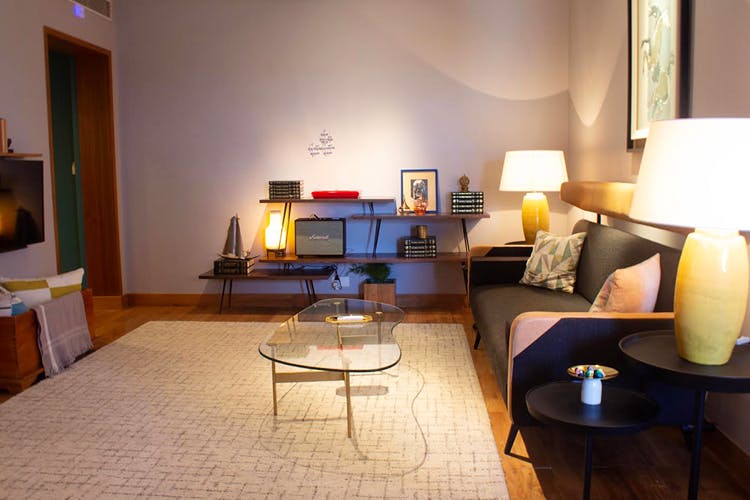 #GroundRule: We Believe That Every Home Should Have Cozy Floors & So Does This Home Decor Brand!
What's the first thing you do when you enter your home? Kick off your shoes! Which is why we feel that it's important to make sure that your floors are suited to the needs of your feet.
Pura Vida Carpets is an exclusive rug and carpet brand that showcases a wide range of Scandinavian, contemporary handcrafted carpets and rugs for your home, made by traditionally talented artisans from Bikaner district in Rajasthan.

Attention To Detail
Their entire collection has been inspired from 2 main categories - the modern-day collection which is for the younger generations who prefer color and somberness in combined forms, and Epoch that comprises of handmade weaves which are carefully crafted to make the exclusive art-pieces for your homes.
Narendra Bhawan – a luxury hotel, Laxmi Niwas Palace, Bikaner, and Suryagarh Jaisalmer is another heritage luxury hotel that shares the carpeting experience conceptualized and crafted by team Pura Vida Carpets. The brand also offers personalized services to modern day designer properties as the associate brand to several leading architects and interior designers. They have also served as the flooring associates for carpets and rug needs globally to the likes of NH Hotels.

Pura Vida Carpets believe the present day consumer is informed and knows what they want and therefore if you are an architect or a hospitality chain with interior projects to look forward to, Pura Vida Carpets has your back.

Create Your Own
From beautiful fusion mixes like Floor Finish to urbane styles like Evergreens to brush stroked solid colours, they have carpets that are sure to bring together any space! Each piece is unique in itself as you have the option of modifying vis-à-vis size and colour. These guys surely treat carpets as a work of art!
Still could not find what you were looking for? Pura Vida Carpets is happy to help with their "Made to Measure" service. They have a separate team dedicated to custom-needs – be it the design, wall to wall carpets of specialized area rugs for your interiors. Customization can be made in terms of design, color, weave, patterns, and choice of wool. Just give them a call or drop them an email to discuss your carpet idea and requirements, and they will create the ideal carpet for you!

So, We Are Saying...
Be it the beautifully lit guest rooms, the windowed & sunny living rooms, the colorful kid rooms, or even a palace, these guys have the perfect floor fit for you. Pura Vida Carpets is offering after-sale services with its carpet and rugs as a value-added service offered to exclusive projects. So you can sit back, relax and sip on coffee as they take care of your carpets for you!
PS. There is a whole collection of home furnishings inclusive of cushions, poufs, wall hangings, stools and handbags waiting to find a place in your home!

Comments