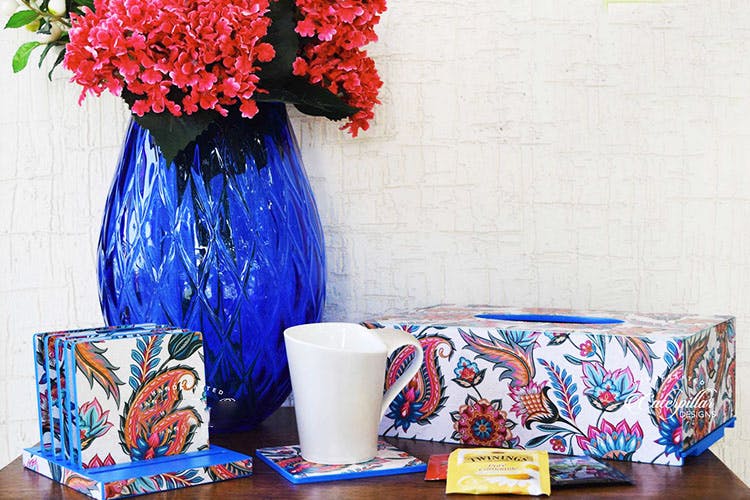 Handmade & Customised, Caterpillar Designs' Gifts Are One-Of-A-Kind & Beautiful
Shortcut
Caterpillar Designs by Ruchika Gupta produces some of the cutest and most thoughtful mementos and gifts for kids and adults alike.
Handpicked With Love
Ruchika travels around the country to source products she can work with and that she feels people would like to give as gifts. The embellishments are also sourced accordingly and they aren't added only for aesthetics – they serve a purpose too. Since she avoids bulk work to concentrate on each, individual piece, every product of hers is unique. She enquires about the personality of the people receiving the gifts so she can factor that into the design and thought process, adding a warm, personal touch to each product.
Take Your Pick
Paper craft and wooden accents are recurring elements in most of her designs. The vintage theme is apparent and can be seen in the tissue cases, tea trays, keepsake boxes and wall hangings with added embellishments to complete the product.
For kids, there are personalized initials or alphabets for table tops and name plates for their rooms, complete with cutesy flowers and add-ons. For grown-ups, the watch boxes are a beautiful gift, lined with leather paper and varnished to perfection. Speaking of collectibles, their tea boxes are not just beautifully vintage but a great way to store and serve tea bags for your next tea party.
So, We're Saying...
Just in time for festive season, choose something unique and handmade for a change. Caterpillar Designs hand-delivers in Gurgaon and has a delivery network pan India so you have no excuses to buy generic presents anymore.
Have a look at her work, and place your orders, here.