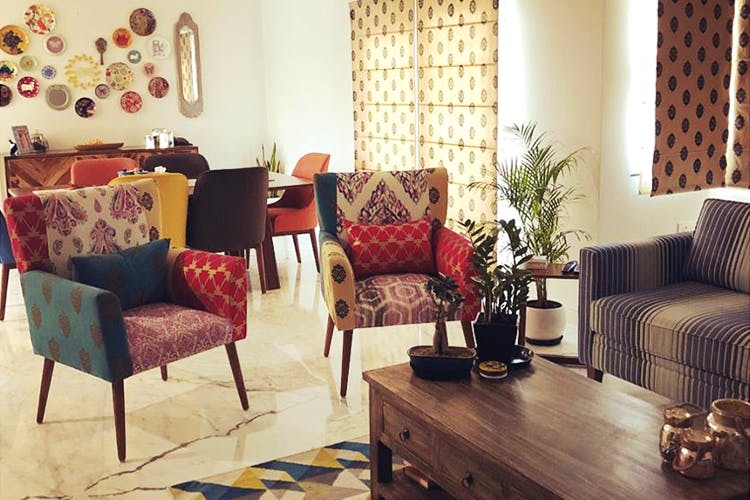 Home Birds, These 9 Interior Designers Give Epic House Makeovers
We've found interior designers who can turn your apartment from average to astounding by maximising space, picking the perfect distressed bench and sealing your love affair with that 2BHK that you've been neglecting for a while.
Does your jaw drop when you look at decor magazines? Do you often lust after those celebrity homes? Would love to have a house that makes you never want to leave? No, only that couch doesn't count. Good time to call these interior designers across Delhi and NCR.
The Little Big Co.
Last year, we bumped into this 'little' venture that's now grown by leaps and bounds. Run by two sisters, their style is mostly fun, laid-back and casual. They specialise in DIY and creatively repurpose old stuff. In fact, their knowledge of where the best furniture and decor finds are, is inexhaustible - they know Amar Colony and Shankar Market like the back of their hand.
From Jangpura to Gurgaon to Ferozshah Road to even quaint organic stores, the sisters have successfully completed interior design projects across Delhi and NCR.

Budget: 30k onwards

Read more here.
Sheek Designs
Sheeki doesn't judge you for asking her to revamp your hostel room. In fact, she is as happy to take on small apartments/hostel rooms as she is to take on big bungalows. She's a master in upcycling and thrifty hacks and keeps a stern eye on your budget to ensure she's never overspending. For this, she relies heavily on artworks she can make herself or stuff bought from secondhand markets. Her interior design aesthetic is bright, peppy and super colourful.
While South Delhi's home turf for her, she won't mind coming to Noida or Gurgaon if a project demands. Yes, she's flexible (and creative) like that.
Budget: Design consultation starts at INR 3,000.
Read more here.
Rubina Dhankar
We've been obsessed with Rubina's home makeovers ever since we heard of her. Based out of Gurgaon, her forte is boho chic and her transformations bear a strong imprint from her Yash Raj's creative producer days. Plus, all the money she charges goes towards raising and feeding her 54 adopted stray doggies that stay with her.
She's also one of the few interior designers who puts up the entire fee structure online, for everyone to see. You can find out exactly how much a room, a balcony, a consultation or a site visit would cost. Isn't that lovely?
Budget: See the whole fee structure, room wise, on their FB page.
Yasu Crafts
In Sultanpur, our hunt for decor stores landed us at Yasu's handicrafts and furniture store. Run by a Japanese guy who loves Delhi, this one doesn't just stock furniture but even offers to build pieces for you from scratch. They keep a catalogue of designs handy, so everything from sofas, benches, coffee tables, dressers or anything can be customised.
Add to this the fact that they've carried out home makeovers across Delhi and Gurgaon for years now. Call Yasu to customise your furniture and set up your home/office too. Killing two birds with one stone, as they say.
Check out some of Yasu's makeovers on their website.
Balcony Makeovers
Sometimes, you've done a fairly decent job of the rooms but are struggling with that outdoor space that's become a glorified dumpyard. This is where the Balcony Makeover folks step it. Their workforce and creativity will turn around a space as big or small into a coffee dream spot. They handle lighting, accessories, plants, fixtures, grass carpeting, vertical gardens and just about everything outdoor-related.
A similar service is also offered by HaraMe. In fact, they are experts in creating a green space even if you don't have a balcony or a garden. Think vertical gardens and old drums turned to planters kind of hacks for small homes.
Budget: 35k onwards for Balcony Makeovers
Read more about Balcony Makeovers and HaraMe.
Project Co.
Delhi-based Shabnam Singh has been into interior design for almost two decades. She's great at interiors, exteriors and landscape design and now works with an army of designers, architects and project managers to take on projects. While her style spells luxury with every drape and dresser (she even customises furniture!), she promises to work within your budget.
A little something about her: She's worked on Shveta Bachchan Nanda and Rajeev Mehrotra's houses. So, ahem, the Bollywood folks loves her.
Budget: Shabnam works with people's budgets but the entire home redecoration project cost can go up to a few lakhs.
Drishty Vaswani
We know Drishty Vaswani as the person behind Def Col Social and Smoke House Deli. Let this not fool you into believing that she's only about cool cafes. She's equally at ease making over people's houses and offices (she's designed Truly Madly's workspace). While she's all funky with office cubicles, her house designs are comfy, cosy and homely… Just the things that'll make you never want to leave.
Read more about her here.
Monica Khanna
With some of the most glorious resumes, Monica is clearly the interior designer of choice for everyone who's lucky to have bungalows in Central Delhi or massive farmhouses in Ghitorni. She's also worked on prestigious luxury trains like The Palace On Wheels and The Orient Express. Get our drift?
The biggest motivation to work with her team is that they're as good at structures, electricals and other hardcore building techniques as they are at softer design elements. She takes on farmhouses, residences, resorts and retail projects and does a stellar job of them.
Devyani Kumari
The Kotri is a Gurgaon-based design firm with Devyani Kumari at the helm. They don many hats with home styling, design and even taking house owners decor and furniture shopping. She has a gift when it comes to re-creating a heritage feel in homes. From adorable nurseries to luxurious homes with a customised four-poster bed, The Kotri can turn absolutely deplorable basements into gorgeous living rooms.
Budget: Shopping for homes starts at 30k while styling can be anything above 45k.
Comments