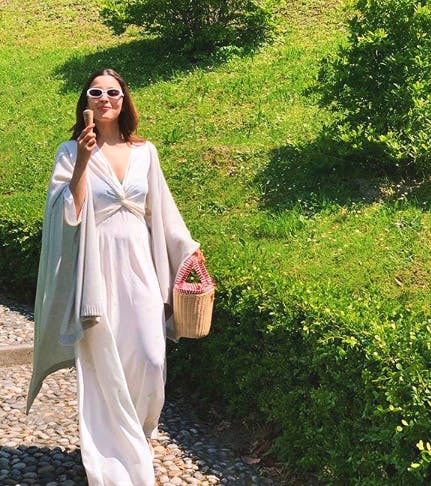 How To Dress For The Gram: Insta-Worthy Pieces From ₹199
I spend a lot of time scrolling through Instagram and saving a lot of fun things to my collections folder (like, a lot). Shoes, bags, jewellery, dresses… You name it; I've bookmarked it.

So I've decided to start rounding up items and hacks that'll help you step up your Instagram game and make your feed look like the ones you drool over:
Straw Honeycomb Circle Cross Body
Spotted Alia Bhatt's cane bag on her Italy vacay? The ethnic straw bag replicates exactly that and is SO gram worthy.

On another note, I'm really big on eco-right fashion, and if you are too - you'll love the handcrafted honeycomb design and vegan leather straps on this piece. Our editors have been styling it equally well with formal as well as casual outfits. So head over to LBB and get your hands on it now!
Coint Print Tote
A unique bag never always hits the bull's eye on Instagram! @stylemeupwithsakshi rocked this quirky tote with a jacket & cowl dress from LBB. She's loving the look and so are we! The tote features a cutesy coin print and is super pocket-friendly. The best part? It's spacious enough to carry all you'll need through the day AND it comes with a trendy detachable pouch (yay!)
Cricket-Ball Socks
At-home chilling sessions make it so hard to balance between dressy and casual, right? And with everyone being on their phones, you can't help but be snapped every second. We figured the best way to pull off a casual look is to pair it with quirky, eye-catching socks. Wear these cricket-ball socks to your next screening and be ready to rake in compliments! Hurry up, you can thank me later...

Palm Tree & Shell Necklace
When curating a gram-worthy outfit, clothes aren't the only thing you should focus on getting right. Seas the day 🌴 with a layered necklace. This stunning number weds the shell and layered necklace trend and the gold-plated palm trees have our heart! The chain length extends up to 26cm - perfect to wear with plunging necklines and cutesy tops. It's 45% OFF on LBB and you can NOT miss it, you guys!

Comments