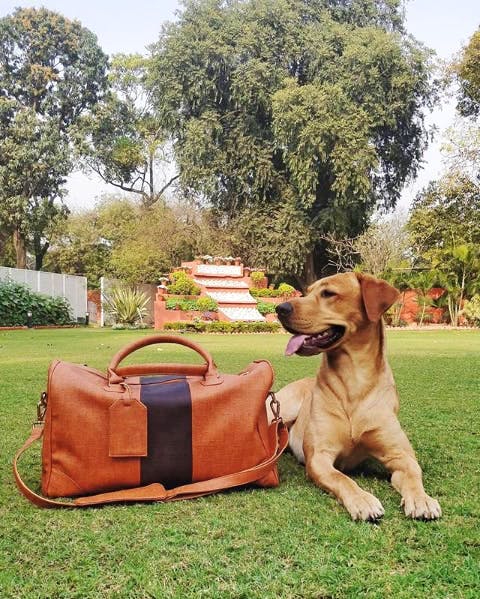 Introducing The Weekender: Duffle Bags You Won't Find Anywhere Else
If you've been dreaming about a weekend getaway for longer than you'd like to admit, it's time to start packing! Getting out of town this weekend will be SO much easier with these awesome duffle bags at unbelievable prices.
Jacquard Diagonal Stripes Duffle Bag
You don't need to worry about overpacking with excitement, because this bag can carry your life - literally. It's super roomy, easy to carry and we're digging the colour combination!
White Arch Monochrome Duffel Bag
If you're mad about monochrome (and aren't we all!), this compact duffel bag makes for the perfect travel companion. It's super minimal and comes with a sling as well - making it easier to lug around!
Vegan Leather Solid Duffle
Not going to lie, I gasped when I saw this bag. That should speak volumes about how STUNNING this piece is. The emerald green and glossy vegan leather is giving us *major* getaway vibes. Imagine yourself walking into a gorgeous property, wearing striped pants, a white tee and carrying this gorgeous bag. OMG get the camera ready - we're posing already!
Monochrome Stripes Tan Trim Duffle Bag
This classic striped duffel bag is a best-seller on LBB, and we've already restocked twice! It's made with vegan leather, and gives major vacay vibes.
Vegan Leather Textured Tan Duffle
This handcrafted bag is for the trendy traveller. If you want to invest in a versatile accessory and don't mind splurging slightly, you need to grab this textured weekender bag stat. It makes for a great gift as well!
Navy Stripes Midi Duffle With Pockets
This bag has become our go-to, not just for last-minute trips but even if we're spending the night at a friends. You can throw in all your makeup, and cute outfits and step out. Also - it has pockets on the side which are great to store trinkets and hair ties.
Utility Pocket Attached Jacquard Duffle Bag
Head turner, right here! This striking Jacquard duffle bag is really easy to lug around on a weekend trip. It comes with a utility pocket so you can keep all your stuff handy while exploring a new city.
Pug Print Duffle Bag
If you're heading out without your furry friend, or just want to express your love for dogs (because why wouldn't you) this duffle bag is perfect. It's really roomy and has a lot of leeway for some unanticipated shopping you might do on your trip.
Rose Pink Tan Strap Duffle
A neat addition to your travel essentials, this Rose Pink duffle is cute, comfortable and chic while also letting you carry yourself with confidence! The sturdy straps make for a perfect travel buddy, so you need not worry about a handbag mishap while you're out living your best life!
Multicolour Pattern Olive Duffle Bag
Olive this bag! Rock this weekender with some baggy olive green linen pants, a white top and some tan sandals to give off effortless-chic vibes all weekend long! A comfy traveller is a happy traveller, isn't that what they say?
Comments