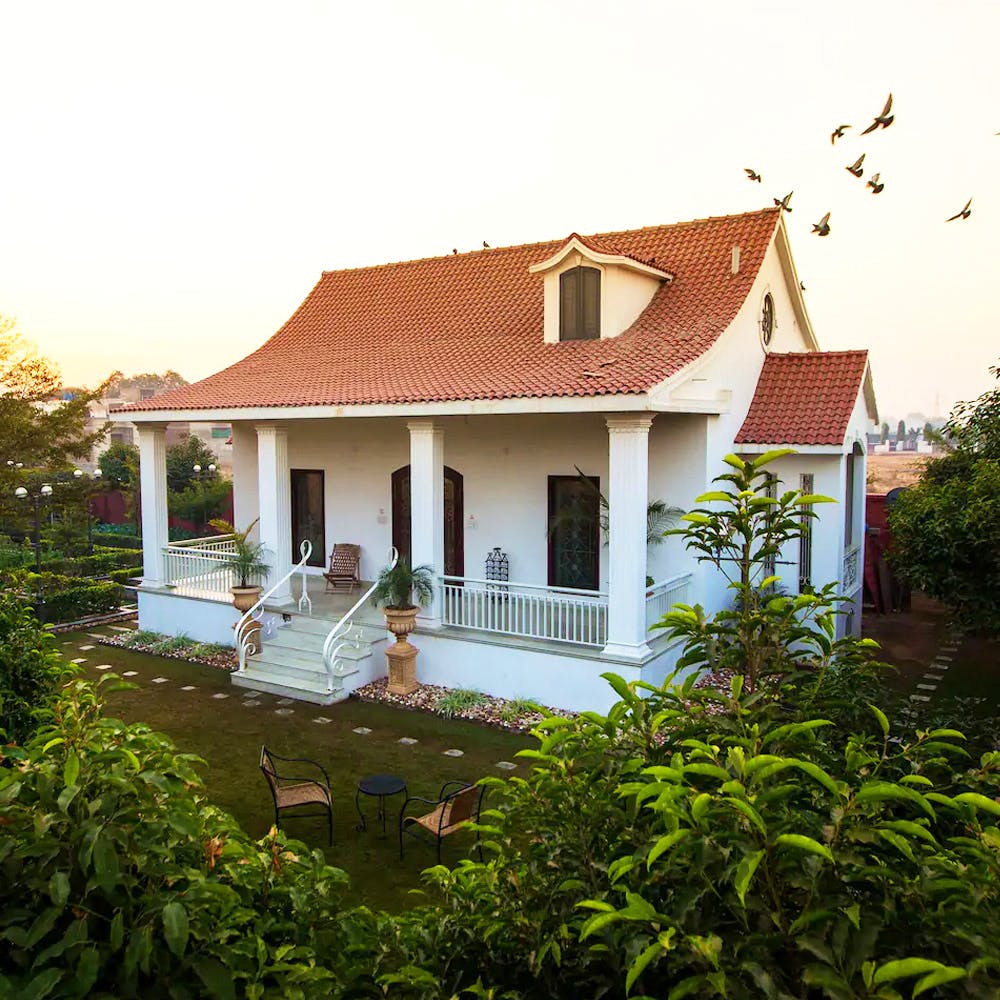 JLF Attendees, Book One Of These 5 Homestays In Jaipur Before It's Too Late
Headed for the Jaipur Literature Festival (Jan 24 to 28) and not keen on staying with that distant relative who asks too many questions? Not sure if budget hostels overflowing with chatty travellers is your scene? These home stays are your best bet. The 5 AirBnBs we've picked out are both quiet and charming.

Aashiyana Homestay
This house is conveniently located in Civil Lines, and is both well-kept and luxurious. It can accommodate up to eight people. The rooms are spacious, the garden is a delight and the rooftop is just the kind of place you'll love to spend your evenings at. And, when it gets too cold, you can resort to the Playstation they've got at the house. Their kitchen is open for you to make your own meals, and (if you've got an extra day to spare), they've curated a city tour to show you around.
Holiday Home With A Tree House & Garden
To all the small groups out there, this tree house with a lovely garden has so many cool things to make that Jaipur holiday super-fun. Think movies under the stars, camping tents, a garden jacuzzi and a tree house. The most brilliant thing about it is it runs on solar power! The place is a little away from the city, so if you don't mind a commute just so you can kick back away from the city that's crammed with tourists at this time of the year, it's a great choice. And, if you're splitting the per night cost, it won't burn a gaping hole in your pocket either (at least, for the luxuries it offers).
P.S. You can request traditional meals and they'll be taken care of.
Photographer's Studio Turned Homestay
Appreciate everything art? This photographer's studio is full of beautiful artefacts, books, paintings and tools that are bound to serve as inspiration if you've hit a creative block. The terrace and art gallery can be explored at leisure, and you're free to order meals from the many cafes close by. We'd totally recommend this for those hitting JLF solo or with bae/the best mate.
Camellia 'Luxe Homestay'
One look at this ancestral house and you know a lot of thought has gone into decorating it and bringing it to life. Like Aashiana, this is also a stone's throw away from the JLF venue. If you have a moment of boredom, they've got tea-tasting sessions, golf, and lots of cafes to hang at. This, in particular, is for those who like hotel-like comforts but home-style hospitality.
Winter Garden
For those who're a fan of green, airy spaces, this Bnb is perfect. The space is done up tastefully with bright linens, lots of plants and wooden interiors. If you're a lover of design, Tarpan's house will definitely impress you (and you can go back home with a few tips too!). While this homestay is not centrally-located (almost 6km from the main city), it is close to most markets and cafes.
Comments