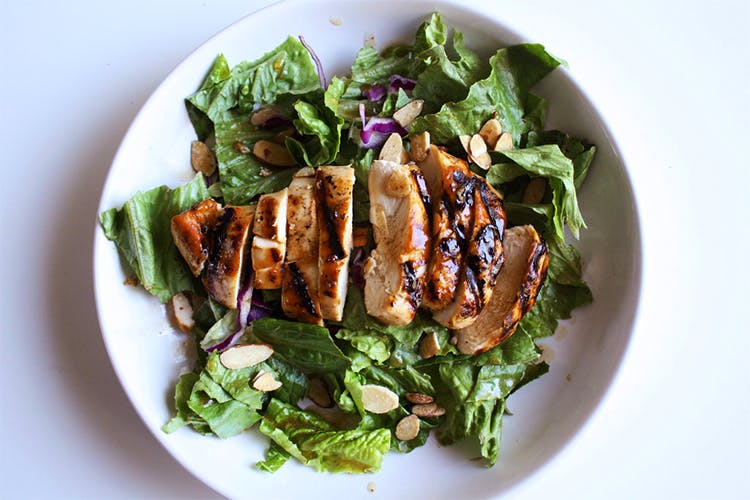 Trying A Keto Diet? These Places Deliver Food That'll Keep You On Track!
Weight loss is a pain in the ass—there, we said it. But with the magical keto diet suddenly on everyone's radar, people have been inclined to get in shape now more than ever. So naturally, it's really hard to stay on a keto diet, but fear not. We found some amazing places that serve some of the best keto food, so you don't succumb to cravings.
Blufit
These guys deliver keto diet food in South Delhi and Gurgaon, based on your needs. You can call them up for a free consultation, get a sample meal, and start getting food delivered to your doorstep. They'll guide you through proper meal planning, and have delish sounding meal options for both lunch and dinner. You'll find Zucchini Pakoras, Keto Carbonara Pasta, Cucumber Tomato Salad, Cauliflower Chapati and a whole lot more on the menu.
It might be a little expensive but so worth it (Cauliflower Chapati priced at INR 100).
Bombay Bizare Baker
Hailing from Mumbai after their success there, Bombay Bizare Baker just popped up in GK-2. They do sugar-free, gluten-free, vegan, and keto food made with high-quality ingredients. The keto menu has fudge brownies made with chia seeds and almond flour, baked cheesecake, flaxseed brownies and much more. They also customise food based on your dietary needs, which is definitely a lot of (keto) brownie points in their favour.
Price: INR 400 for two (approx).
PNUT
These guys have got keto sandwiches, low carb pizzas, breads and desserts on their menu that will help keep your keto diet from going haywire. They've got an egg fatty melt keto sandwich and a keto cake loaf that we're looking forward to try. They also mention kcal, carbs, proteins, and fats under every dish, so you can easily pick the one that fits your macros.
Price: INR 500 for two (approx).
The Keto Kitchen
Situated in Gurgaon, right from keto parathas to keto bread loaves and muffins, The Keto Kitchen will keep your diet on track. Their whole menu is full of delicious meals, desserts, and breads, and every dish has the amount of kcal, carbs, proteins, and fats mentioned below them so you can keep your macros in check.
Price: INR 800 for two (approx).
KetoRoo Bakes
KetoRoo Bakes is a ketogenic food delivery based out of Malviya Nagar. From her tiny kitchen, Roohan whips up maida, atta and processed sugar-free snacks including pizzas, desserts, breads, bagels and lots more. Her cheesy garlic breads, healthy pizzas (butter chicken baked on almond flour crust) and cinnamon rolls are the crowd favourites.
Growfit
Growfit is an online portal that has a whole range of snacks, smoothies, low-carb attas, and more. You also have an option to talk to their experts and nutritionists about the Keto diet and get a plan customised for yourself. For breakfast, you could try their Ketogenic Coconut Flake Cereal, while for the snacks, their Almond Keto Dark Chocolate Bar is the show-stealer. If you want to more about the options, don't forget to check their website!
Innerchef
Founded in 2015, Innerchef offers ready-to-eat meals (pan-Asian, keto), detox drinks, healthy smoothies, and a lot more. They are currently operational in some of the major cities of India so, simply place the order via the website or app and you are good to go! We absolutely love their Keto Dosa with Chutney and Korean Style Keto Bowl and guess what, it's affordable too! Their Keto Dosa is priced at INR 130.
Comments