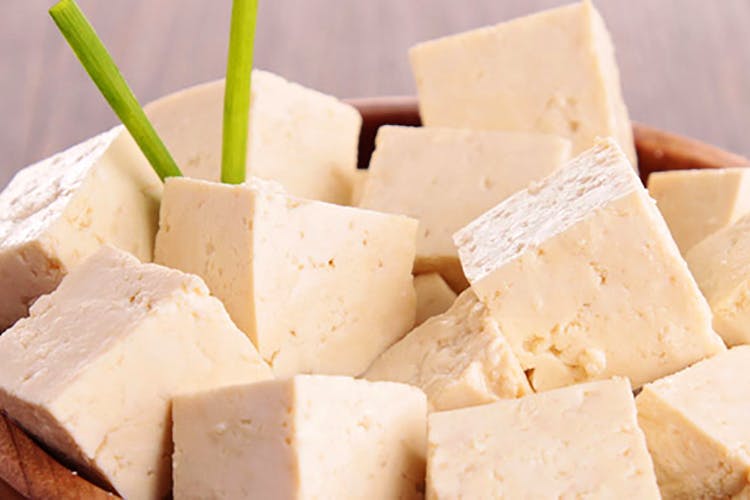 Score All You Need For A Home-Cooked Japanese Meal From Kim's Mart
Shortcut
Tucked in one corner of the basement of DT Mega Mall in Gurgaon, Kim's Mart is your one-stop-shop for picking up authentic Japanese products. From fresh seafood, meat and veggies to awesome pastes and sauces, this place has it all!
Oh, So Fresh!
Kim's Mart dazzles us with the sheer variety of aquatic life it has on offer. From delicately-sliced grouper for sashimi lovers, a hearty red snapper for a grilled treat, to even the long-legged octopus for the more adventurous of eaters, there is quite the range to choose from.
Herbivores- don't lose heart. Kim's also has beautifully-packed cases of fresh greens, and we couldn't stop ourselves from picking up some crunchy celery, baby carrots and, our perpetual favourite, pok choy.
There are also large chunks of tofu to choose from, and a decent enough collection of our favourite fungi. Shitake FTW. Also stock up on sticky rice, the best ever Kikkoman Soy Sauce, rice cooking wine, anchovy sauce and tempura flour in a one swift move.
They have a cheat code for perfect dim sums too; you can pick up beautifully crafted dumplings in prawn, pork and chicken variants.
All Things Bright And Sparkly
If like us, you tend to get seduced by munchies in bright packaging, then tread with caution here. From thin rice crisps in subtle flavours to blueberry jam-filled cookies to shrimp crackers, you might just end up substituting your dinner with a cartful of snacks.
Oh, and pray please give your instant noodles indulgence an upgrade and choose from several options of instant ramen and thick udon style noodles that pout teasingly for you here.
So, We're Saying...
Kim's also stores plenty of Korean treats, so an authentic Bibimbap paste is within arm's reach. Also, get a little inventive and try and mix and match ingredients you pick up from here with your regular khana as well; for perhaps that nice fusion meal.
Comments